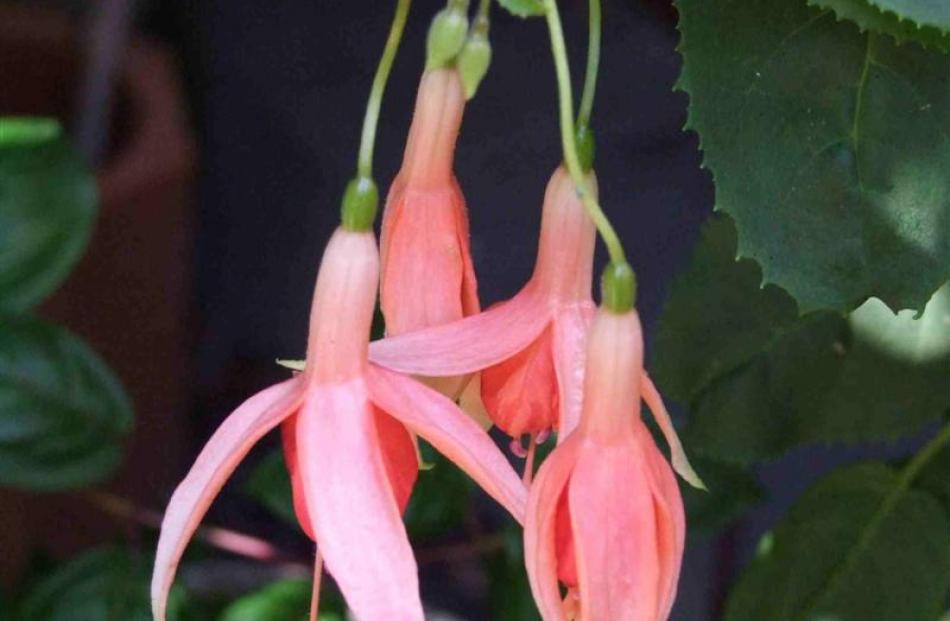 A Dunedin gardener tells Gillian Vine that "it's time to say it for fuchsias".
"Everyone loves roses and rhodies and lilies, so let's say it for the fuchsias today," says Margaret Diack, leading the way into her Dunedin garden.
She has dozens of fuchsias, from tiny Naomi through tricky-to-grow Lord Lonsdale, fat-budded Devonshire Dumpling and New Zealand-bred Snow Burner.
Most are grown in pots, although several have their roots deep in the well-manured, moist soil. Garden-grown specimens include Crisp, the favourite of her husband "Tuppy", a former All Black.
Manure and moisture are the secrets, Mrs Diack says, and if the gardener gets those two things right, they will have fuchsias in bloom from October to June.
"I start pruning in June," she explains.
"I cut them [fuchsias] back hard and give them a good feed of sheep manure and blood and bone. Then about December, I give each plant a teaspoon of potash to harden them up."
Even if the blooms wilt in hot weather, keeping their roots damp will ensure they spring back, she says.
Asked if her fuchsias get frosted, Mrs Diack laughs.
Several years ago, when the Dunedin Fuchsia Group ran Fuchsiarama, judges from the North Island expressed amazement at the way fuchsias grew in Dunedin, especially as Ashburton growers said they had to put their fuchsias in shade houses to prevent frost damage.
Mrs Diack has used frost cloth in the past - "A few I was concerned about getting frosted, so I ran around and put their nighties on" - but she no longer does, as the plants cope without being covered.
The Diacks have lived in their St Clair house for more than 30 years.
"When we came here, there was nothing . . . so we planned this garden, starting by planting to try to get shelter," she says.
A huge Pink Pearl rhododendron in the front garden was "probably as old as the house", which was built in 1924.
The tree was dying, so the Diacks left it as a frame on which to hang potted fuchsias. Although fuchsias dominate, they are balanced by numerous shrubs, perennials and climbers, including a lovely Chilean bell flower (Lapageria rosea).
As she walks around, Mrs Diack does not hesitate over names or where she bought her fuchsias.
Many came from a now-defunct New Plymouth nursery, whose demise might have been because fuchsias are readily struck from cuttings, so people who bought one swapped bits with friends, making the nursery redundant.
Among Mrs Diack's prized fuchsias is Naomi, a little pink-and-white gem given to her sister, Marion, by a friend called Naomi.
"Naomi said, 'I don't know what it's called as my grandmother had her so she's very old', so we call it Naomi," Mrs Diack says.
Another source of fuchsias for her has been small, unnamed varieties from The Warehouse. These inexpensive plants have done well.
Fuchsias are usually white, pink or purple, so Mrs Diack is delighted to have successfully grown Lord Lonsdale, whose flowers are as close to orange as has so far proved possible.
Her collection really does inspire the visitor to say it for fuchsias.

GROWING TIPS
> Fuchsias are easily grown from cuttings. Mrs Diack takes woody pieces (hardwood cuttings) when she prunes in June and roots them in water to which some rooting hormone can be added.
> Alternatively, the pieces can be grown in damp pumice or potting mix to which vermiculite has been added.
> Soft cuttings can be taken during the growing season - just pinch out a piece a few centimetres long, trim off surplus leaves and grow in the same way as hardwood prunings.