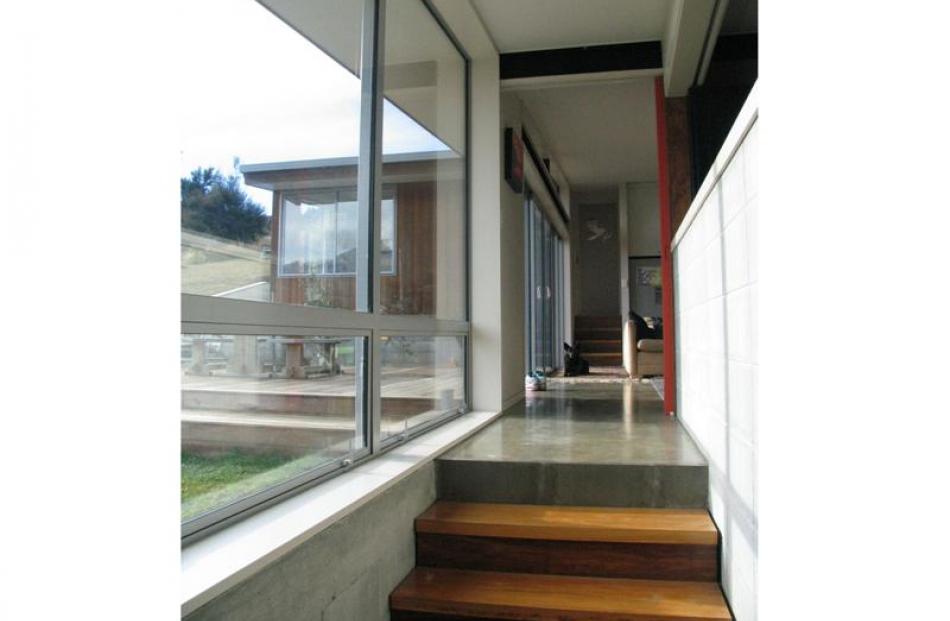 A Wanaka house recognised in the recent Southern Architecture Awards was seen as tracing the low, linear "Kiwi modern" style of the 1940s while dealing directly to new expression.
The judges described the home as stylish and contemporary, with good sun exposure and the indoor-outdoor living requirements of the clients provided for in straightforward, modular units.
Designed for a young couple with a baby on the way, the house is in Rob Roy Lane and shares a boundary with farmland on the slopes of Mt Iron.
The stepped roofs and floor planes enhance the owners' awareness of these surroundings.
The sloping plot may have been a challenge but it was one architect Rafe Maclean was prepared for, having worked with such sites in Wellington.
At the time the house was designed, the suburban site was surrounded by empty sections so he also needed to make sure the home would not be in the shadow of neighbours or lose its privacy and views when these were developed. This determined the shape and the placement of the house, as did the need to provide outdoor spaces away from prevailing winds.
An open-plan kitchen and living area, with access to both north and south-facing decks, forms the hub of the home.
The master bedroom is a few steps above on one side, and the two other bedrooms at a slightly lower level on the other.
These different levels provide passive heating opportunities and easy heat transfer between areas.
Some of the interior walls are exposed concrete block for thermal storage and for sound insulation between living and sleeping areas.
Opalescent fibreglass sheeting is used for light transfusion between spaces.
The western red cedar exterior cladding was chosen for its durability and strong patina, while detailing was kept simple to ensure construction costs remained modest.
---
THE SPECS
• Floor area: 220sq m, including double carport.
• Bedrooms: 3.
• Bathrooms: 1 plus 1 ensuite.
• Exterior: Western red cedar.
• Interior: Walls are a combination of exposed concrete block and painted plasterboard. Floors are concrete with carpet in the living area and bedrooms; tiles in the bathrooms. Sustainable features: Heating - wood firebox with heat transfer pipes to lower rooms; thermal mass floors and walls. Water heating - solar water tubes on the roof heat the hot water cylinder. Cooling - good cross-ventilation, including the ability to open the house up on the leeward side when a northwesterly or a southerly is blowing.
• Architect: Rafe Maclean of Rafe Maclean Architects, Wanaka.
• Builder: Peter Scurr, Wanaka.
---