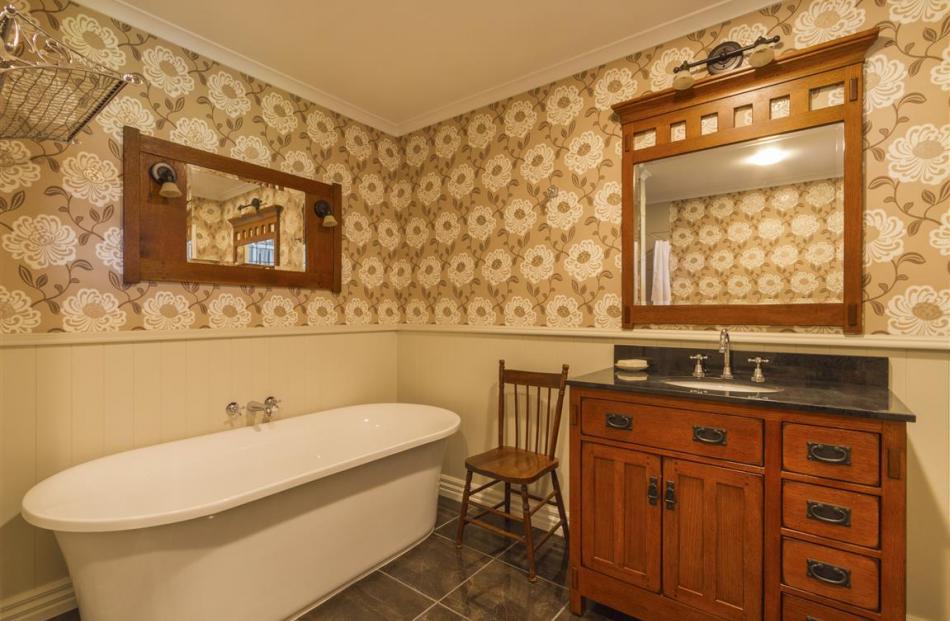 The owners of this Cromwell property wanted a warm, comfortable house that felt like a home. Kim Dungey reports.

A free computer program and plastic buildings from a board game played their part in the creation of this Cromwell home.
Co-owner Fred Black used drawing software to create the floorplan and an elevation, then "banged together'' Monopoly houses and hotels to explain his vision to wife Trish O'Neill.
"I told her, 'that's basically the look we've got','' and she thought it was great.''
The three-bedroom home owned by the retired electrical contractor and the Dunstan Hospital nurse has tongue-and-groove panelling, colonial-style architraves and a central staircase that oozes character.
The powder room adjacent to the double-height foyer boasts a recycled washbasin and stand, while the front door and several leadlight windows came from demolitions after the Christchurch earthquake.
"I know a lot of people go for minimalist [houses],'' Mr Black said.
"But we wanted traditional.''
The former Mosgiel couple had always "hated'' leaving their holiday home in Cromwell, so 10 years ago they moved there permanently, buying a house on an orchard and converting the property to a bed and breakfast.
Later they began eyeing up the section in the nearby Lakefield Estate that would become the location of their new home:"It had magnificent views and couldn't be built out because there were greenways right around it.''
Mr Black says they liked the croft cottages they had seen on English television programmes so used one of those as a starting point, adding on extra rooms and finalising the plans with an architectural draughtsman before calling in builder Keith Mackenzie.
Good-sized windows that let in the sun and framed the view without compromising the traditional design were key to the croft style they wanted.
"A lot of people up here build beautiful homes with huge, huge windows and in summer they've got to close [those rooms] down because it's so hot.''
The 278sq m home features a traditional kitchen and an English-style sitting room with built-in gas fireplace and vaulted ceiling that Mr Black said was a little like the "front room'' in which previous generations socialised with their guests: "It's a lovely quiet room where we can listen to music, have a quiet drink and entertain people.''
Television is watched in the snug, which links to a separate office.
The family bathroom has its own personality, with old-fashioned wallpaper, a traditional-style wooden vanity and a second-hand oak mirror Mr Black restored.
In-slab heating is used in the kitchen, dining area and snug, with radiators in the bedrooms and lounge.
A large courtyard with a pergola provides a place for outdoor gatherings.
A former partner in Tansley Electrical, Mr Black helped the electrician on the project and says all the tradesmen on site were "great''.
The Cromwell home was a national finalist in the new home $400,000 to $500,000 category of the Registered Master Builders 2015 House of the Year competition.
Builder Keith Mackenzie, who had two homes in the finals, left school at 15 to take up a carpentry apprenticeship and has been a qualified builder for 35 years.