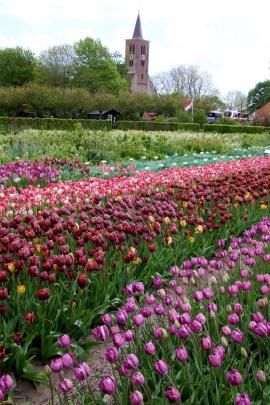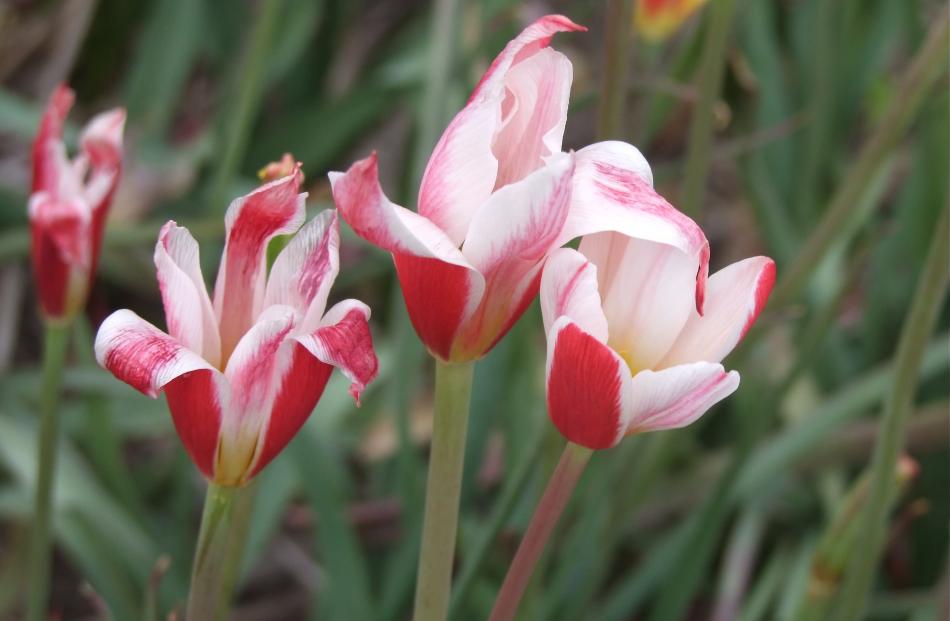 Gillian Vine considers tulips to be one of the great delights of a southern spring. 
When I lived in Auckland, I couldn't grow tulips unless I bought new bulbs every year. The humid climate and relatively mild winters meant they couldn't put on enough condition to flower a second time and eventually faded away completely, so I gave up.
Returning to the South saw me splurging on tulips at garden centres, scrounging some of my mother's old red Darwin Oxford and begging some of a friend's low-growing Greigii variety with the striped leaves that typify these and Kaufmanniana tulips. I might be said to have been suffering from ``tulipomania'', but nothing like the Dutch in the 1630s, when a single bulb was reported to cost as much as a house in Amsterdam.
The bubble burst but the Dutch love of tulips remained and breeders became increasingly involved in developing new varieties. The Netherlands now grows about a billion bulbs a year, the bulk of them for export, plus many more for the cut-flower market.
In New Zealand, tulips were being advertised for sale as early as 1850 and by the 1860s, they were obviously a hit in the South. In 1916, a Patriotic Tulip Fete was held in Dunedin and proved so popular that the police had to be called to control the crowds. Interestingly, the fete was held at the beginning of August, much earlier than gardeners would now expect to see tulips in bloom. It is difficult to judge from newspaper photographs of the time, but the fete's tulips may have been dominated by species, as many hybrids were developed after World War 1 and flower later, peaking in October.
All up, the Tulipa family has about 75 species and thousands of cultivars, the latter divided into 15 divisions, based on flower shape. Most cultivated varieties have been bred from T. suaveolens (syn. T. schrenkii), which originated in the Eurasian steppes. Its flowers are red with yellow throat and petal tips.
The large-flowered Darwin hybrids are probably the most popular, especially the double (peony) and fringed types, although the parrot varieties have numerous fans. After all, who cannot love a flower called Flaming Parrot?
Not now available are the once-popular Rembrandt varieties, whose striped markings were caused by a virus, although there some modern, virus-free lookalikes, including Monsella (red and yellow), Feather Flag (purple and white), Debutante (deep pink petals edged with white) and Spring Green, which has green stripes on a white background.
By choosing early, mid and late bloomers, it is possible to have a long display and if you plant other flowers between the bulbs, the dying foliage is hidden. Wallflowers, pansies and forget-me-nots are suitable and this past season I successfully used seedling dahlias.
Plant tulips from March to mid-May and don't worry if they freeze over winter, as the bulbs need winter chill to promote flowering.
They like well-drained soil enriched with bone dust or blood and bone. Choose a sunny spot that does not dry out in summer and plant bulbs with about 5cm of soil over them. They are good for containers but pots need to be at least 30cm deep or the soil will get too warm and buds will shrivel before opening.
Tulips can be lifted when the foliage dies down but if left in the ground, they benefit from a mulch of compost in autumn or early winter.
These days, tulips cost as little as 50c a bulb (less if you pick up an end-of-season special), so forget about trading one in for a house in Amsterdam.
Saving history
At Limmen, in the Netherlands' bulb- growing area, is Hortus Bulborum, a collection of almost 3000 different tulips and 1200 daffodils, plus hyacinths and other bulbs. The collection, started by a man concerned at the disappearance of many tulips, is not just of rare species but of cultivars dropped from commercial production in the Netherlands. Hortus Bulborum is open every year from April until mid-May and for anyone visiting Europe at that time, it is well worth visiting, especially in conjunction with a trip to see the tulips and other spring bulbs at Keukenhof, about 50km south of Limmen. Closer to home, Canberra's annual Floriade floral festival (September 15 to October 14 this year), which started in 1988, runs for a month in spring. During that time, a million flowers are on show in Canberra's Commonwealth Park. Entry is free.