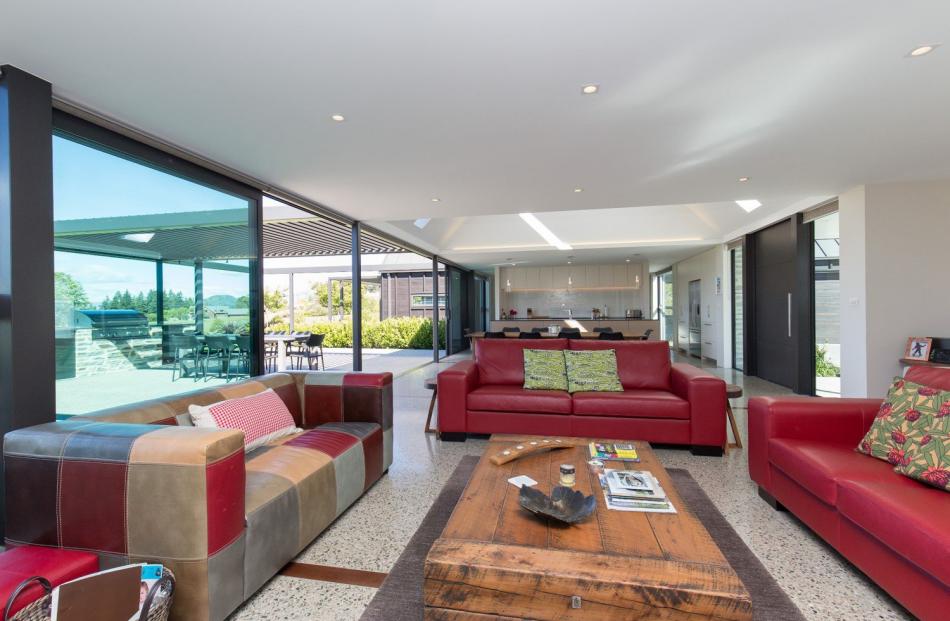 This Wanaka holiday home was designed to cater for extended family and friends. Kim Dungey reports.
Pete and Belinda Blaxland had often thought of holidaying in one spot and knew when they visited Wanaka they had found the right location.
The scenery was spectacular, they say, and there were plenty of outdoor activities for them and their extended family to enjoy.
A week after arriving in the town, they had bought a 4000sq m section in the elevated Far Horizon subdivision.
The only challenge with building was that they lived in Sydney.
Mrs Blaxland says they trawled the internet and after viewing many New Zealand houses arrived at the website of Gary Todd, an architect with offices in Dunedin and Wanaka. As luck would have it, Mr Todd was doing a project in Australia and could meet them in transit. The discussions began over a beer at Sydney Airport.
The idea of building for the first time,  2000km away, was daunting but the process went smoothly. The retired couple made several trips to Dunedin and Wanaka during the consultation period, then visited the site every six weeks once construction began.
Builder Nevin Gibb emailed progress photos every Friday and quickly received a phone call if they didn't arrive, Mrs Blaxland says.
"Apparently it is quite good having a client from another country, as they are not on site every day to make the builder's life a misery," she joked, adding that any problems were small ones and could easily be discussed over the phone.
The home comprises three pavilions linked by flat roofs and glass walls that Todd describes as a modern interpretation of Central Otago's gabled-roof barn shapes, with a relaxed interior suited to holidaying.
Pavilions create different zones and indoor-outdoor connections, also breaking up the mass of a large house that under one roof might dominate the landscape, he says.
"Pavilion houses may be under three or four roofs, with little linkways which allows views through between the building forms. It creates more interesting spaces. And it's a more residential scale."
In this case, the pavilions are arranged in a T shape, providing privacy from neighbours while creating an entry courtyard on the south side and an outdoor living courtyard on the north. The owners' bedroom and the garage are under one roof running north to south, while the living and guest wings both run east-west.
Natural materials feature strongly and include cedar, stained black to match the roof, and bagged schist walls.
Extensive north-facing glazing maximises the sun and panoramic views. The large outdoor living and barbecue area has a louvred  roof.
In winter, the 350sq m house remains cosy thanks to heated polished concrete floors, thermally broken aluminium joinery and heavily insulated walls and ceilings.
Mrs Blaxland says they envisaged many family members holidaying in the house so it needed to be ''low care and maintenance''.
It also "flows" well, with the open-plan kitchen-living area flanked by two self-contained guest bedrooms on one side and  the master bedroom on the other.
"Upstairs we have a larger room [not self-contained] which can sleep a number of guests."
The television is in a separate room "so some [family members] can watch what they want while others can sit around the fire enjoying a tipple."
During their first Christmas in Wanaka, the Blaxlands had  18 people staying in the house and the sliding glass doors were pushed back completely for easy access.
Sydney is a busy city and their time in Wanaka was eagerly anticipated, she said. The fact that flights from Sydney to Queenstown are so regular is a bonus "and it is a super trip either over the Crown Range or via Cromwell".
Family members ski both Cardrona and Treble Cone and also bike and tramp.
"It's a pleasure to see them all enjoying the beautiful surrounds of Wanaka and we love sharing our home with them. Sometimes it does feel as if I am running a B and B but heck, what a great location."