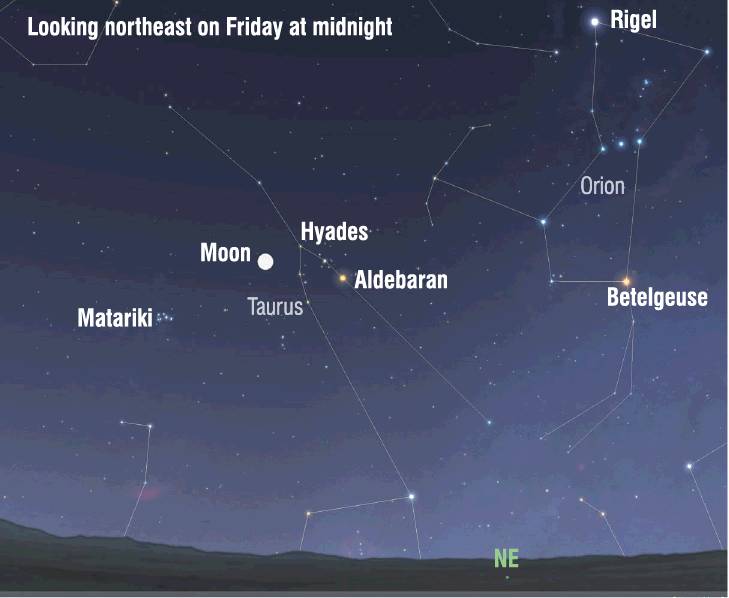 The moon is full on Friday evening at 6.39pm, which means it should be a magnificent sight as its 99.8%-illuminated disc rises in the northeastern sky at 8.43pm, Ian Griffin writes.
In Dunedin, sunset is not until 8.59pm, which means readers who can find a spot with good views to the northeast and southwest will have an opportunity to simultaneously view both the sun and the full moon above the horizon for at least 15 minutes.
On Friday night, the moon is slap-bang in the middle of the constellation Taurus, and if the sky is clear, it will be well worth taking a few minutes to explore some of the wonders of this richly storied region of the sky.
For at least the past two millennia, people from around the world have imagined the V-shaped group of stars known as the Hyades to be the head of a celestial bull, with the orange-red star Aldebaran as the bull's eye.
Aldebaran is the 14th-brightest star in the sky, and astronomers have measured its distance at 65 light years, which means that the light you see when you look at the star began its celestial journey in the year of Queen Elizabeth II's coronation.
There are almost as many myths about Taurus as there have been civilisations. For example, in Egypt, Taurus was associated with royalty and divine power; two bulls can be seen on the extraordinarily beautiful ''Chair of the Millions of Years'' recovered from the tomb of Tutankhamun.
The Hyades star cluster has itself been widely celebrated since ancient times; it was mentioned in the works of Homer and Ovid.
In Greek mythology, the Hyades were the five daughters of Atlas and half-sisters to the Pleiades.
Observations made by the Hubble Space Telescope have been used to calculate the distance to the Hyades as 153 light years.
Of course, the most famous star cluster in Taurus is the Pleiades, known to Maori stargazers as Matariki. No tour of Taurus is complete without viewing this compact but spectacular star cluster, so before packing away your binoculars, do remember to take a look.