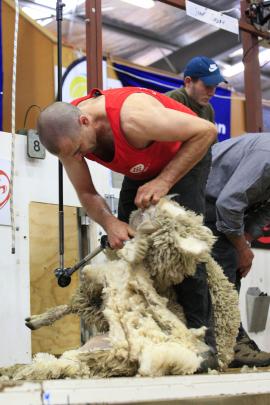 Invercargill is gearing up to host the world shearing and woolhandling championships next month.  Agribusiness reporter Sally Rae catches up with local lad Nathan Stratford, who will represent New Zealand in front of a hometown crowd.
Nathan Stratford had been looking forward to sitting down and enjoying a beer over Christmas.
But a successful campaign on the shearing board at the Canterbury A and P Show in November ended that plan.
The Invercargill father-of-two edged out hot favourite Rowland Smith to nail the second spot in the New Zealand team for the world shearing and woolhandling championships.
Come next month, Stratford (42) will be pulling on his moccasins in front of a hometown crowd, albeit peppered with an international flavour, in the ILT Stadium Southland.
It was an unexpected victory in Christchurch. Smith, the reigning world and New Zealand champion, was widely expected to emerge the victor.
Stratford nonchalantly admits it was one of the "better" outings he had for a while, winning three out of four finals. And, as he puts it: "that's all right."
"I take the philosophy it is what it is, if it happens it happens. If it doesn't happen, the sun will still rise on Saturday morning and we'll still be walking around.
"You know if you do fail, you've given it your best shot. You can't get too overwhelmed or upset if you didn't make it."
But when a 10-month long selection process ended in dramatic fashion, and failure was not the outcome, Stratford recalls being "dumbfounded".
"I stood there for a couple of seconds . . . and then everyone was looking at me as if to say, 'get up there'.
"Looking back, it was a surreal moment. About a week later, it was like 'wow, this is what's actually happening'."
Shearing is something that is in Stratford's blood: his father was a shearer and a shearing judge and, when he started shearing 20 years ago, he learned "the right way".
It materialised from there, and lots of good people helped along the way.
"It's been a long, long road. The last 10 months have been even longer," he says ruefully.
The 40th anniversary world championships are a big deal in the world of shearing sports. About 4500 sheep will be shorn by competitors from about 30 countries, including such far-flung places as Mongolia.
It is the 17th time the event has been held and it is also the first time the South Island has hosted it since it was first held in England in 1977.
And it will not just be sheep taking centre stage. Opshop frontman Jason Kerrison is returning to his home town to perform at the championships, along with Wanaka country-rock singer-songwriter Jody Direen.
Stratford might be the hometown hero of the championships but the Southland boy isn't resting on his cheer-leading laurels.
He likens it to the All Blacks playing a test match at home: "The home crowd aren't going to make you perform. You've still got to do your own individual thing."
But he's excited about having it in Invercargill. Not only for the economic boost for the city, in an area that has historically been renowned for its sheep, but also it was great for people to "see something different".
In the lead-up to the championships, it's business as usual for Stratford, revolving around a day's shearing, then home, catching up quickly with his wife Lisa and their son Seb (10) and daughter Lexie (5) and then into training.
"I had been hoping to button off the training, if I hadn't made it. Sitting down and enjoying a beer at Christmas," he says.
Stratford, who hasn't had a beer since August, was given a training programme to follow 10 weeks out from the championships.
Asked what makes a champion shearer, Stratford says a "tough skin" is a prerequisite.
"When you get knocked down . . . you need to be able to stand up and say, 'OK, I'll give it another go' and not just quit.
"You take your knocks and you take your criticism. I've got some really good mates that come in and say 'you're not doing that right'. Sometimes they say it not in a nice way. That's the way it is."
The best part of being involved in the shearing industry was the people — "workmates and being able to have laughs and not be PC" — and meeting a variety of people, that he otherwise would not necessarily have an opportunity to meet.
He cites the likes of the Hore family from Patearoa; former All Black Andrew Hore, now back farming in the Maniototo with his former motorcycle racing wife Frankie; Andrew's former professional rugby playing brother Charlie, and his wife, former Silver Fern Belinda Colling.
"I'd never dream of meeting people like that," he says.
There was also an opportunity to travel "far and wide'' and it has taken him to the likes of Australia, Wales, Scotland and Ireland. 
"If you can shear a sheep properly, you can go anywhere, end up anywhere."
There's no doubt that shearing is a tough occupation and, for Stratford, it's getting increasingly harder. Age was one factor and sheep were getting bigger.
"Come home from work after being beaten up for eight hours . . . it's like being in a ring with Joseph Parker for 10 minutes," he quips.
Some days, he does question why he does it; particularly on those days when the alarm clock goes off at 4.45am.He expects his body will let him know when its time to give up — and then he'll need to start looking at other avenues. In the meantime, he hasn't done anything about that.
Stratford has a few mates in the industry that he counts as mentors, including his boss, Darin Forde, as well as  shearing legend Sir David Fagan. 
"He's the Richie McCaw of shearing. In his era, he was unstoppable. He, to me, has put shearing on the map."
Stratford is joined in the New Zealand team by John Kirkpatrick, woolhandlers Joel Henare and Mary-Anne Baty, both from Gisborne, and blade shearers Tony Dobbs (Fairlie) and Phil Oldfield (Geraldine).
• The world shearing and woolhandling championships will be held at ILT Stadium Southland, Invercargill, from February 8-11.