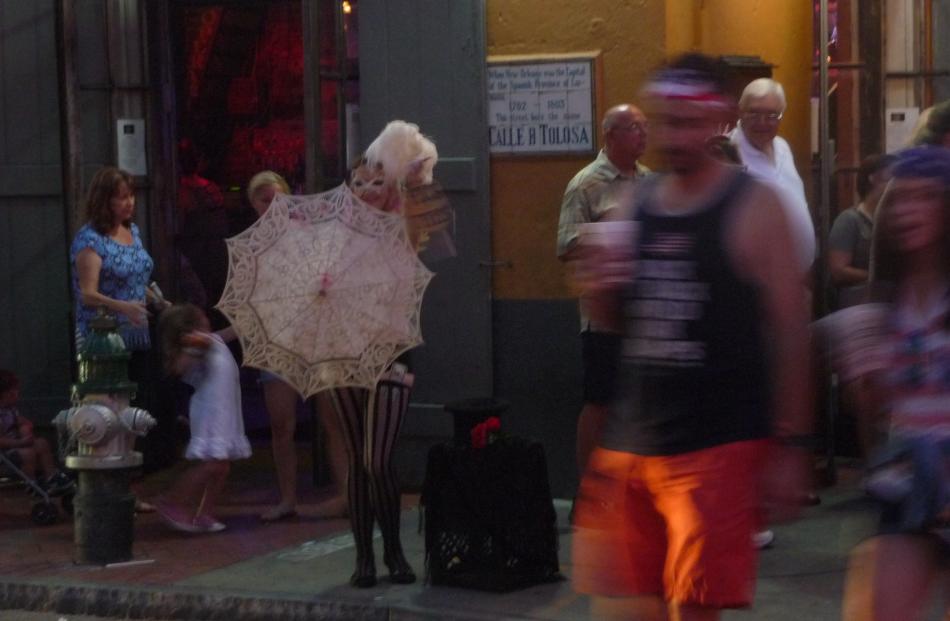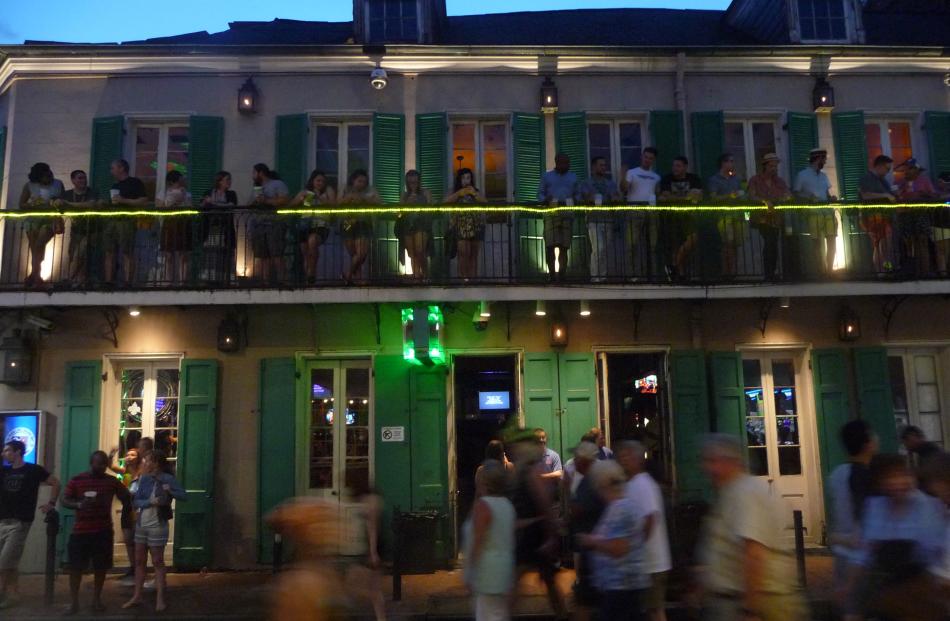 Prejudices were out and fetishes were in during Pam Jones' moving first visit to New Orleans' most famous street.
My first visit to Bourbon Street was a devil-may-care feast of gay pride and passion; a vaudeville street parade with shades of burlesque.
There were tutus and tattoos, circus costumes and cleavage, fishnet stockings and feather boas. And that was just the ones watching.
But there was nothing indecorous about it. New Orleans' Gay Pride Week is true to its namesake and a thing of pride for all who take part and cheer on. And I was lucky enough to witness it on a sweaty, smelly, bawdy night in the French Quarter.
The much-feted street Bourbon St is in reality a noisy, grimy, touristy, tacky and sleazy place both by day and night.  But on my first visit there, gay pride turned Bourbon Street into a place of honour in a bid to try and educate humanity.
Part of the New Orleans Gay Pride event, the gay pride parade was audacious, inspiring, invigorating and utterly thrilling - whether you were LGBT (lesbian, gay, bisexual, transgender) or not.
Those in the parade wore leather and dog collars, hot pants and heels. It was a night of excess, trumpeted in by brass bands and police sirens. Cheering reached fever pitch as mardi gras-style floats and groups on foot passed by.
But there was a gut-wrenchingly sad side to it all. Besides its usual quest for acceptance of the LGBT community, the June 18 parade had a painful significance. It had only been six nights since the Orlando nightclub shooting, and parade participants and spectators were grieving, angry, consumed and riled up. 
Photos of all 49 killed in the shooting were carried through the parade on a night when people's fury was acted out and channelled down a neon-lit street that had determined the best way to protest was to party on.
What terrorists and those who carry out hate crimes want most is to take away our liberty. The way to beat them is to carry on with normal life.
The Stonewall riots
The Gay Pride movement is widely accepted to have begun in New York City on June 28 1969.
Police were carrying out what was in those days one of their usual raids of gay establishments (accompanied by another round of beatings of patrons), this time targeting the Stonewall Inn, a popular gay hangout.
But that night the lesbian and gay patrons decided for the first time to fight back, the outrage of patrons about the harassment they were receiving spilling over. More police were called and a riot exploded.
Word of the protest grew, and on following nights larger groups gathered to protest the mistreatment. These rallies became known as the Stonewall riots, uprising and/or rebellion, and are widely regarded as the genesis of the modern gay and lesbian freedom movement.
Pride celebrations have today evolved into various annual rituals and gay pride parades are an exuberant part of that.
"The attire of attendees is generally vibrant, and can range from next to nothing to full leather and fetish wear," the GayPrideNewOrleans website says.
"It is all a reminder to the world that we deserve and are entitled to the exact same rights as other citizens, and should enjoy the freedom to live our own lifestyles without others passing judgement and spewing hatred.
"As important, the celebrations are a symbol of unity and solidarity, and provide a vehicle to demonstrate the unique personality and characteristics that make up the very diverse GLBT (gay, lesbian, bisexual, transgender) populations of the world."'
Flying the flag 
In the streets of New Orleans' French Quarter, the LGBT-symbol rainbow flag is flown at many houses and hotels, and it's always in evidence during gay pride parades.
The flag was created by San Francisco artist Gilbert Baker in response to local activists saying the community needed a symbol of unity and was unveiled during the San Francisco Gay and Lesbian Festival in 1978.
Also known as the "freedom flag", its different colours symbolise diversity in the LGBT community. Its six coloured stripes signify life, healing, sunlight, serenity with nature, harmony and spirit (it initially had eight stripes, with additional colours representing sexuality and magic/art).
The New Orleans Gay Pride event has evolved and been held in various streets and squares over the years but now comprises a festival parade and a host of events billed as "family-friendly and acceptable for all"; the programme includes a family day in the park with entertainment and children's activities, a parade after-party and a New Orleans-style Pride Brunch, with keynote speaker.
I viewed the events as a reminder of the need to give equal civil liberties to all, the parade turning the pavement beneath it into a vehicle for change. But it was also bitter-sweet, especially on the back of the Orlando massacre.
The message of the placard bearers and partygoers was moving, but the realisation they still needed to spread the message was frustrating: why does our world still require a certain demographic to protest and parade to remind of the freedom and acceptance they should automatically get?
Parade-goers carried placards that cried out "love wins" and "love conquers all".
Wouldn't it be great if that was really the case.
• The 2017 New Orleans Pride Festival Weekend will be held from June 9-11.