Think you can't go to Amsterdam without tripping over cannabis cafes and the city's red light district? Think again. Sarah Vilela da Silva enjoyed a purist's take on the Dutch capital as she sought out art, culture and, yes, tulips.
Every travel idea was met with disbelief.
Amsterdam without the cannabis cafes?
"Yeah, right," people replied.
Avoiding the red light district, too?
"Good luck with that," they sniggered.
But as a clean-living, cultured (thank you) young adult exploring Europe, I was only interested in Amsterdam's cultural side. Drugs and red light districts hadn't featured in my life so far, so why would they in Amsterdam?
I didn't have to look far for my first art galleries and museums. Here's my guide to discovering the best of Amsterdam:
GALLERIES (AND MUSEUMS)
Amsterdam does museums well, by putting all the best well-known ones in the same area - they're so close you can stand in the middle of a small square and see five different museums.
The Stedelijk Museum was amazing, with oodles of modern art.
Rijksmuseum is the biggest. You definitely need a map to navigate the building, and give yourself three hours to fully explore its art. (This is where that famous painting by Rembrandt, The Night Watch, is displayed.)
Moco Museum is another that holds modern art (for the rebellious activist side of you to thrive?) and one of the featured artists is Banksy.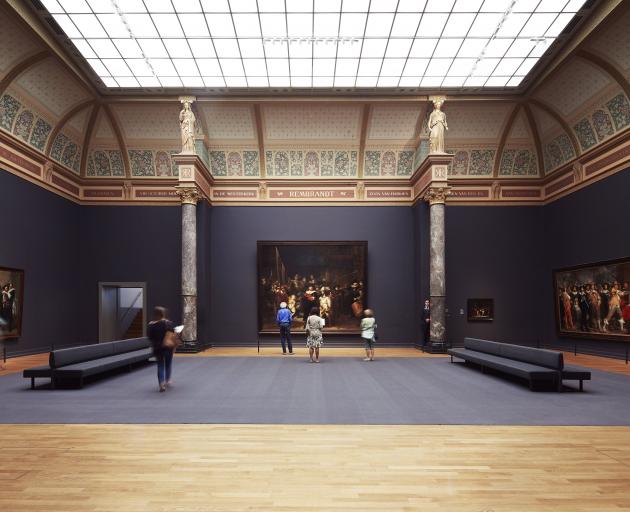 The Van Gogh Museum is a whole other beast. One of the most popular tourist attractions in Amsterdam, the museum keeps tourists in check by only selling tickets online and for staggered time slots throughout the day. My tip - visit on a Friday night when the museum is open till 9pm (three hours later than usual) and see the museum at half capacity, allowing you to get up close and see the true beauty in van Gogh's paintings.
CANALS AND CULTURE
My father said if I did one thing in Amsterdam, do a canal tour at dusk, so although it was 2degC outside, and dusk was at 4pm, I put it at the top of my list of things to do.
I loved every moment of it. The only one sitting outside (tough Kiwi girl I am), in order to avoid the fogged-up windows inside, I got to see the transition from day to night in a way you can't compare with anything else.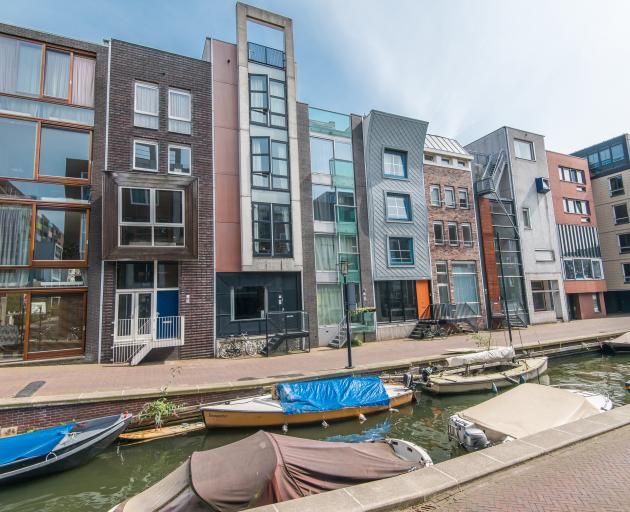 The canal tours also put you directly in front of the houses that line the canal-side streets, so you can see exactly how narrow they are. The reason for this? In the 16th century, Dutch authorities levied taxes from citizens based on the width of their house. It has created a city made up of wildly narrow houses, the smallest house in Amsterdam being only 2.2m wide, and 5m deep.
FOOD, ACCOMMODATION AND MARKETS
The Albert Cuyp Market is a stellar attraction in Amsterdam, especially for foodies. I started every morning with 1 fresh orange juices, followed them with mini Dutch pancakes called poffertjes and delved into other cuisines along the way - spinach flatbread; fries and aioli; and hotdogs with all the toppings.
But as well as having great food, markets are also great spots for people-watching, so park up on a bench with your coffee and poffertjes and watch as the Dutch carry out their morning rituals.
I snaffled a hostel only 10 minutes away from the museum district and it was adequate. Yes "adequate" is the word to use, as our room was so small that when you stood between the bunk beds your shoulders touched either bed.
Accommodation is expensive in Amsterdam. I would recommend a private room in an affordable hostel, as close to the centre as you can get. Also, if you have the option, get a room on the ground floor. The stairs in these narrow houses are a hazard if I've ever seen one, and very easy to fall down (yes, I learnt this the hard way).
THOSE TULIPS
Visiting in December, you wouldn't be expecting tulips, but a visit to the floating flower market had me surprised. The Amsterdam Flower Market has been around since 1862 and is the only floating flower market in the world. No matter what time of year you are there you will be welcomed by bouquets of beautiful flowers, and bulbs to take home with you. Of course, New Zealand prohibits bringing back these kinds of souvenirs, but the clever stalls now sell bulbs in a sealed tin - which you are allowed to travel with. I brought home (to Dublin) a bag of Rembrandt tulips - a type of parrot tulip that has been renamed Rembrandt tulips because of the colouring similar to Rembrandt's brush strokes.
DAY TRIPS
After two full days in Amsterdam, I wanted a change of scenery and booked myself a 60 ($NZ100) half-day tour of surrounding towns.
I wouldn't be your usual suspect for a tour group, in fact I usually avoid them, but I couldn't recommend this one more. We visited three different towns, saw three different attractions, and had plenty of time to explore.
In Zaanse Schans we saw the infamous windmills, got to go inside a working one, and then explore for an hour on our own. (It seemed every shop in the village was brewing hot chocolate. A mouth-watering scent).
Next in Volendam we had a tour of a cheese factory, followed by a cheese tasting (goat's cheese available for my fellow lactose intolerants) and another hour to explore on our own.
Lastly, we hopped on a ferry across Lake Markermeer and arrived in Marken, where we watched clogs being made. Yes, I did buy myself a pair of clogs here. When will I wear them you ask? Great question.
THE OTHER SIDE . . .
Sure, if it's your thing, or if you're a curious cat, nip into the red light district, indulge in an "edible" or recreational puff or two ... but there are common courtesies to follow.
•Don't smoke (cannabis) on the streets - that's why there are coffeeshops (Amsterdam style).
•In the coffeeshops there are usually menus in English that explain different cannabis products, along with quantities and strains used, although you will never find alcohol on the menu (it is illegal to sell alcohol in cannabis cafes).
•Keep in mind that when consuming edibles (food with marijuana in it) the effects are stronger than when smoking.
•Coffeeshops will have a green or white sticker in their window to show they are a registered seller, so look for this to save the embarrassment of lighting up in a normal cafe.
•If you're new to it all, or just don't understand the menu, feel free to ask an employee - it's why they're there!
•Most of the coffeeshops are in the red light district - the centre of Amsterdam's prostitution industry.
•A big thing to remember is that in Amsterdam, sex work is just another job.