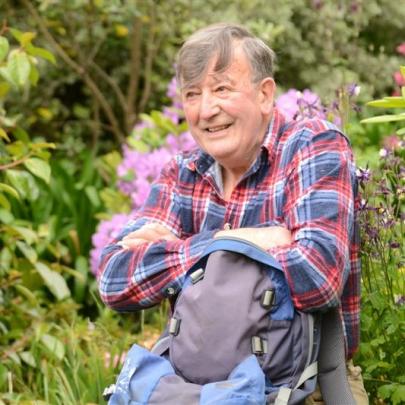 Experienced tramper Cliff Donaldson will always vividly remember one night, more than 60 years ago, when he learnt just how quickly and harshly the weather can change in the great New Zealand outdoors, including in the Silver Peaks area.
That night, in early February, 1945, he was an 11 -year-old youngster staying at the former Green Hut, in the Silver Peaks, northwest of Dunedin.
He had been accompanied by Leith Valley identity and tramping party leader Geoff Clark and five boys also from Leith Valley, including two cousins.
They had already spent one night in the hut, having Weetbix and cold water for breakfast the first morning.
''I remember the sight of dark clouds scudding in on the higher hills and we thought it would be good because it meant an extra night, adding to our adventure, even though it meant cold water and Weetbix again.
''Little did we know that the approaching storm would gain a life before next morning.
''Back in the hut we met three new arrivals and I distinctly remember one was wearing a tweed suit and waistcoat.
''They also wore street shoes, presumably because travelling by train to Mt Allan Station, one had to be respectably dressed in those days.
''He told us their three ages combined came to 180, which we lads thought was really ancient. No so by today's standards though.
''The three gentlemen decided to keep going and head out to Leith Valley, even though it was snowing and sleeting.
''Sometime after midnight a pig hunter arrived at the hut carrying a rifle and pack.
''He told our leaders that his mate had stayed with one of the two gentlemen, who was in a bad way along the track, so Mr Clark decided to go out and help.''
The man, James Knox (79), a retired builder, Dunedin resident and experienced tramper, was brought to shelter but failed to recover and died within a few hours.
He had earlier become separated from his two tramping companions, J. J. Marlow and D.G. Wright, in snowy conditions, and fallen ill.
In recent years, Mr Donaldson (79) undertook some research and found several newspaper articles about the incident, which confirmed his youthful memories.
In 1983, three Dunedin school pupils who had been walking to Jubilee Hut but lost their way and were hit by a blizzard, died in the Silver Peaks area. And in 2009, eight international students had to wait several hours in freezing winds and snow flurries to be rescued, after missing the trail to Jubilee Hut.
''With summer approaching it is time for people to get the desire to visit our surrounding hills,'' Mr Donaldson recently reflected in some reminiscences he had sent to the ODT.
The Silver Peaks was a ''fascinating and interesting area'' and he had noticed the plant and bush cover had increased dramatically since the area had become a reserve several decades ago.
''One thing that has not changed, however, is the way the weather can change so quickly.''
Official advice to trampers is that Silver Peaks tracks are suitable for experienced trampers and weather there can change suddenly.
Mr Donaldson has belonged to tramping clubs most of his life, having reluctantly stopped tramping only a few years ago, because of ill health.
''I have tramped in the Silver Peaks area many times since that first trip, but always had great respect for the weather.''
A Department of Conservation Silver Peaks tracks brochure is available via internet at www.doc.govt.nz