Arts Festival Dunedin 2018 is 137 performances across 36 theatre, music, dance and visual arts shows in 10 days. Here's a selection of some of the highlights.
MISS JEAN BATTEN
The legend that is Jean Batten is fascinating and powerful. Cool, glamorous and utterly fearless, the flight of the great aviatrix from England to New Zealand in a single-engine plane made of wood and fabric, navigating with just a compass and a watch, and setting a world record that stood for 44 years, is one of the extraordinary feats of the past century.
Miss Jean Batten is set in the VIP Suite of the Hotel Australia, Sydney, on the eve of the last leg of her historic flight to New Zealand.
Alex Ellis embodies Jean Batten in this solo performance.
When and where
• Friday and Saturday, September 21 and 22, at 7.30pm, in Kavanagh Auditorium, Dunedin
• Monday, September 24, at 2pm and 7.30pm, Coronation Hall, Mosgiel.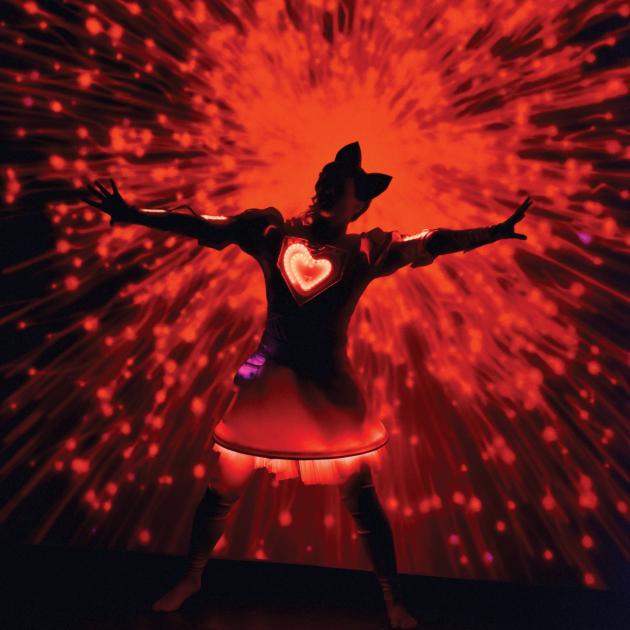 ANN-DROID
This unique little show from Hungary combines beautiful theatre and digital technology: interactive projection, a smart LED costume, a robot ball and a drone.
Ann-Droid is the story of Pinocchio set in the 21st century. In this story Pinocchio is a robot called Ann who is at home in the virtual world, using digital devices as easily as any 21st century child.
Adventures abound as she tries to understand what it means to be human.
When and where
• Friday, September 28, at 6pm; Saturday, September 29, at 2pm and 6pm; and, Sunday, September 30, at 2pm. Mayfair Theatre
RHIAN SHEEHAN
Regarded by many as the archetype among the ambient post-rock genre, Rhian Sheehan's music is heard the world over on film and documentary soundtracks for the likes of National Geographic Channel, Netflix, History Channel and the 2012 London Olympics.
Rhian Sheehan leads his eight band members in a performance of sublime and emotive, immersive electronic and chamber music.
Members of the Dunedin Youth Orchestra, directed by Anthony Ritchie, will add a rich layer of sound to this huge cinematic experience.
Live visuals, time-lapse, portraits, animations and starscapes combine with the music to turn the Town Hall into a world of breath-taking sound and light.
When and where 
• Saturday, September 29, 7.30pm, in the Dunedin Town Hall.
THE MAORI SIDESTEPS
This is the newest and hottest Maori show band on the entertainment scene in Aotearoa.
Formed in 2016, the Maori Sidesteps relive the glory days of the Howard Morrison Quartet, John Rowles and Prince Tui Teka with contemporary skill and wit.
Fresh from sell-out seasons in Wellington, Hawke's Bay, Nelson and Tauranga, the Maori Sidesteps boasts a cast of award-winning New Zealanders, Jamie McCaskill, Rob Makaraka, Erroll Anderson, Jerome Leota and Cohen Holloway.
The shows promise a highly entertaining performance of humour-filled songs and hilarious banter.
When and where
• Friday and Saturday, September, 21 and 22, at 7.30pm, in the Glenroy Auditorium.
KNEE DEEP
This dance theatre show has been described as "the very definition of jaw-dropping''.
Knee Deep has toured 18 countries during the past two years. Now it's Dunedin's turn to experience the power, agility and sheer choreographic strength of this Australian circus troupe. 
The New Zealand Festival described Knee Deep as "best in the biz entertainers with their 5-star premier work''.
Knee Deep is chamber-sized and up close; a theatre/dance/circus experience that is brimming with unadulterated talent and beauty.
When and where
• Friday to Sunday, September, 21 to 23, 7.30pm, at the Mayfair Theatre.
BLOOD OF THE LAMB
The Globe Theatre presents Bruce Mason's final, iconic play Blood of the Lamb as part of the inaugural New Zealand Theatre Month.
With wit, love, music and comic-tragic theatrical invention, Blood of the Lamb examines the life of a not-so-ordinary Kiwi family.
As one of the founding figures of New Zealand theatre, Bruce Mason rewrote the rule book about what New Zealand theatre could say.
Blood of the Lamb asks us to consider the spiritual and emotional cost of accepting ourselves and others for what we are, not what we want the world to see.
When and where 
• September 20-22 and 25-29, at the Globe Theatre.