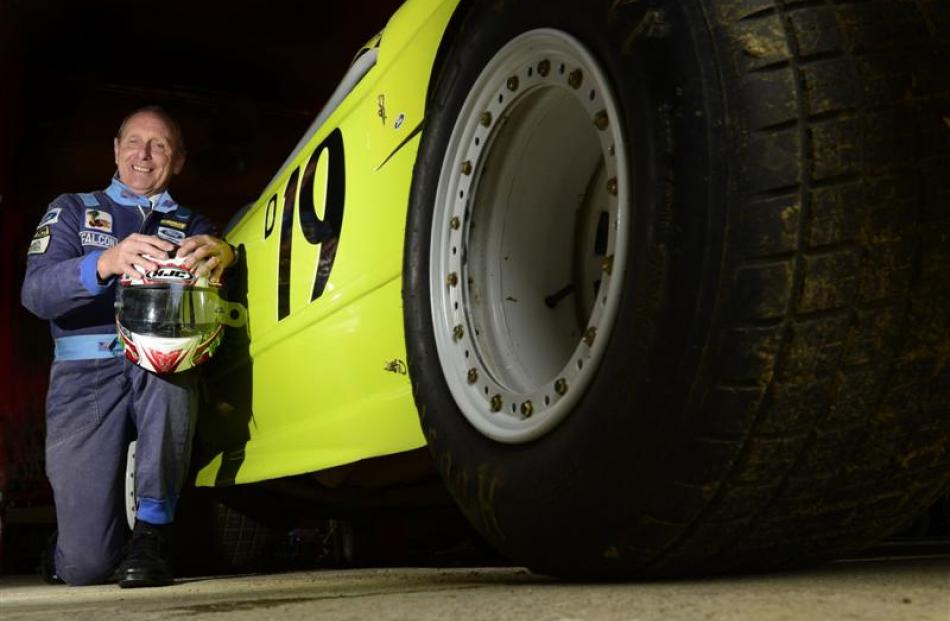 Jim Holley is determined nothing will slow him down. He spoke to reporter Eileen Goodwin about his return to stock car racing.
Jim Holley says a fear of getting old got him back on the stock car racing circuit.
The 69-year-old Dunedin senior finance officer, who returned to stock car solo driving in February after a 15-year break, says he has something of a ''love-hate'' relationship with his hobby.
He is not sure, but reckons he might be the oldest New Zealand driver in A-grade saloons.
He is adamant he is not there to ''make up the numbers'' and races to win.
''I want to be in the thick of it.''
While safety has improved out of sight since he started racing in 1961, he says it is still not for the faint-hearted. Cars bump against one another at speeds of around 135kmh. Drivers wear crash helmets, driving suits and gloves, while the cars have a harness, safety net, and strong roll cages. A St John ambulance is on site at Beachlands Speedway during races.
He has not won since re-entering the circuit, although he notes: ''It's going to happen''.
He gave up racing because of changing circumstances. Having moved house, he did not have as much room for a vehicle.
''One of the things I found when I went back racing this year is I haven't lost any nerve.''
While he is back in his own vehicle again, he has been a production stock car driver in a team of four for the past couple of seasons, which rekindled his interest. His vehicle, which was built in the Waikato by its previous owner, has a Ford 347 stroker engine, developing 400kW (535 horsepower). He expects to burn through about two sets of tyres during the season.
He says his wife, Alison, is supportive, and comes to races - although always with a book to read. The hobby is time-consuming, and Mr Holley says he promised his wife that during the season - which runs from the end of September to the end of March - their family would take precedence.
''She understands I have a need to make sure that I don't think I'm getting old.''
Racing is actually a family affair. His son, Mike - also a racer - is part of Mr Holley's team. The team is essential in stock car racing. For a start, there is always mud to clean off the car between races. Even in his younger days, Mr Holley was not really interested in racing outside Dunedin. It was expensive and cumbersome, so he mainly confined himself to Dunedin, apart from the odd trip to Ashburton. Sometimes, other Otago and Southland clubs headed to Waldronville to race in Dunedin, which provided a bit of variety.
Strong friendships form on the circuit, which is a meeting place of sorts for different walks of life.
''It's a diverse type of person ... there's some hard nuts who certainly look the part,'' he says.
Mr Holley works full-time and has no plans to retire. His workmates occasionally come to watch him racing on the track.
Asked if his age was a talking point, he said with a laugh: ''They probably say 'silly old fool' ... ''