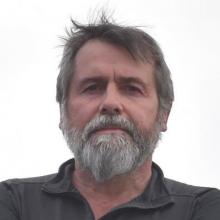 Arcing on top of a power pole in Dunedin last night could have caused an explosion, whistleblower Richard Healey says.
Power was cut to at least one of the surrounding homes as a result of the arcing on Ravensbourne Rd near the intersection with De Lacy St and Delta was called to repair the fault.
Firefighters cordoned off a footpath and slowed traffic on State Highway 88, the main road to Port Chalmers.
Residents of a home directly connected to the power pole were told not to turn on any electrical appliances as a precaution.
Ravensbourne Volunteer Fire Brigade Chief Fire Officer Jason Bryant said it was called at 8.25pm after a witness noticed arcing on a switch, used to isolate faults, on top of the pole.
The footpath was blocked off as a precaution because the crib wall next to it was made of metal and could have been electrified if a line came down.
Mr Healey said firefighters were right to cordon off the area as the failed switch which caused the arcing could have exploded, causing a fireball.
The failed switch was one of more than 30 on the network and likely started arcing either because it was poorly installed or not properly maintained, Mr Healey said.
Delta did not respond to a request for comment last night.