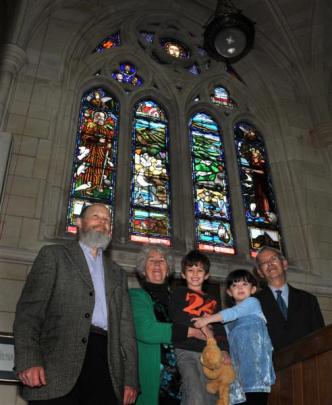 Dunedin's best-kept secret is out.
The unveiling yesterday of a stained glass window inside St Paul's Cathedral revealed Dame Kiri Te Kanawa as St Cecilia, the patron saint of music.
She features prominently in the four-paneled artwork commissioned by Company Bay residents Dr Stella and Dr Donald Cullington.
Maia stained glass artist Peter Mackenzie spent two years researching and creating the window, during which he was sworn to secrecy about its famous character.
Mr Mackenzie said Dame Kiri was the perfect choice for St Cecilia.
The Anglican Church in Aotearoa, New Zealand and Polynesia consciously embraced a mix of cultures, which the Cullingtons wanted to reflect in the window.
Dame Kiri embodied that cultural blend, was a well-known New Zealander and a "magnificent and revered" singer, Mr Mackenzie said.
She had also sung at St Paul's Cathedral and loved the acoustics created by its unique stone vaulted ceiling, he said.
"She sounds like heaven in there."
He had to obtain permission from the internationally-based artist to use her image.
Also immortalised in the work was the Anglican Diocese of Dunedin's Bishop, the Rt Rev Dr Kelvin Wright, as St Paul.
Bishop Wright yesterday consecrated the window during an evening ceremony inside the cathedral, which was previously without an image of its namesake.
The Cullingtons' grandchildren Benji (6) and Gemma (4) Pickering appeared as instrument-playing cherubs in the window, which also portrayed early Dunedin settler John "Johnny" Jones, who gave the land on which the cathedral was built.
Te Rauparaha's son, Tamihana, and Tame Parata also featured for their involvement in bringing Christianity to Otago.
The cost of the window was not disclosed.
Dr Cullington, originally from the United Kingdom, was the director of music at St Paul's for four years in the 1970s.
He and his wife, a retired general practitioner, fell in love with Dunedin and have lived in Company Bay since 2003.
Their window showcased the beauty of Dunedin's landscape as well as its flora and fauna.
It comprised several thousand pieces of custom French glass and told the history of Otago while incorporating Maori and Polynesian motifs.