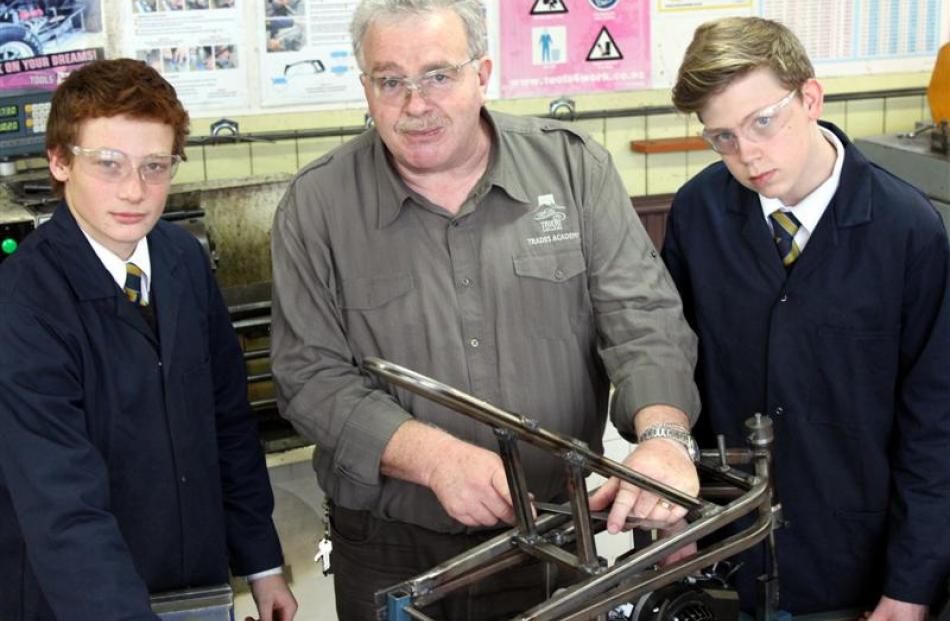 The supply of quality engineers, plumbers, automotive mechanics and carpenters in Otago looks assured after Taieri College's Trades Academy recently became a Competenz accredited school.
Competenz is a multi-sector industry training organisation which designs and manages technical and business qualifications, to make sure the New Zealand workforce is highly skilled.
In recent years, the engineering industry has become frustrated by the inconsistent quality of pupils who have completed level 2 National Certificates as a pre-trade qualification.
However, the ''Competenz Accredited'' stamp of quality - established in 2011 - has highlighted schools which have met strict training standards that satisfy industry needs.
Taieri College Trades Academy director and technology curriculum director Graeme Watson was delighted with the college's accreditation.
Few schools achieved the recognition, he said.
''Competenz saw the number of trades academies starting up around New Zealand, and they wanted to have a stamp of accreditation to give to schools so employers know that that school is teaching the same level and quality as polytechnics.''
Mr Watson established the academy about a decade ago, following meetings with parents, the trades industry and polytechnics.
Today, he has 25 pupils, all on individual programmes.
''I recently had a boy come to me to see if he could do a course in turf management, so I'm seeing what I can do to help him towards that.''
As part of the accreditation process Competenz visited the school to inspect his workshop to make sure he had adequate machinery and equipment and was teaching in a safe manner, Mr Watson said.
They also looked at his courses, systems and paperwork to make sure they were on the same level as polytech courses.
Mr Watson said he was an advanced motor mechanic by trade, but started teaching 28 years ago.
''So far, we've had some very good success at getting students into trades careers.
''I've had people go straight into second-year apprenticeships at Scott Technology, Gough's, metal sprayers and some of the top engineering and automotive firms. It seems to be really working.''