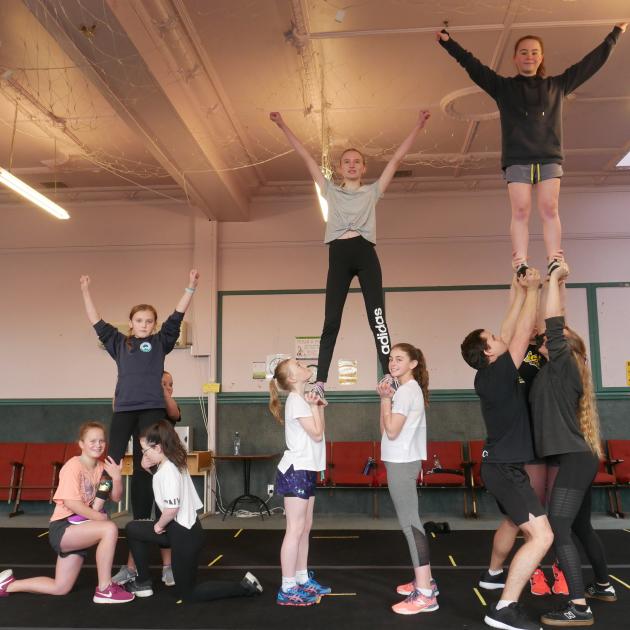 A desire to give people opportunities in cheerleading led Graham Versfeld to start Eclipse Cheerleading almost a year ago.
Now, the club has more than 40 members and runs several classes a week.
The club was formed by head coach Versfeld and director Roberta Noon in August last year.
Versfeld, a six-time Team New Zealand representative, had just moved to Dunedin and noticed a lack of cheerleading clubs in the city.
He had been involved in the sport for about 10 years, competed overseas, and wanted to give people the chance to experience the same things he had.
At present, the club's members - all girls - range in age from 5 years old to 17.
They are taught the all-star style, which comprises a two-and-a-half-minute routine of stunts, jumps, tumbling, baskets, pyramids and dance.
Versfeld said unlike the American style, cheerleading in New Zealand was less about the cheer and more about competition.
"There's definitely some showmanship but it's not all about that.''
There were a lot of common misconceptions about the sport - that people needed to be flexible, have a certain body type, or be a female - but they simply were not true.
"Cheerleading can be taught to anyone.''
The skills were easy to learn, but doing the routine and getting fit took time and practice.
Cheerleading combined aspects of other sports, such as gymnastics, aerobics and acrobatics.
"People who enjoy those types of sports - they enjoy cheerleading.
"Because of its team aspect you develop friends.
"It's challenging and rewarding at the same time.''
The athletes will perform in a showcase in about a month.
Versfeld wanted them to get used to performing without the pressure of competing against other teams.
"That way, next year, we can look at doing competitions.''
JESSICA.WILSON @thestar.co.nz