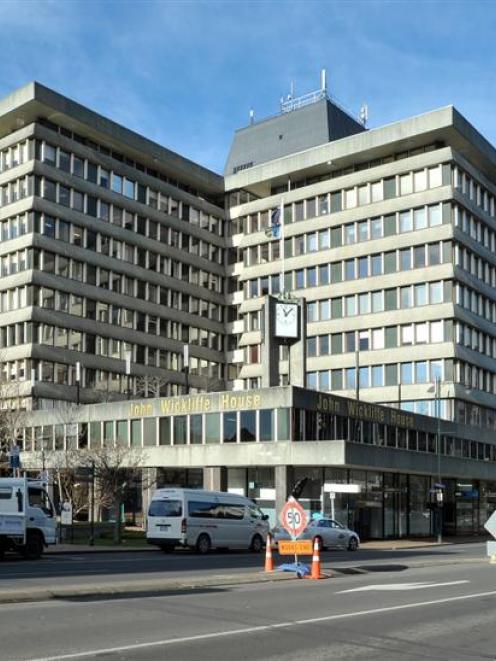 Final arguments have been put on whether John Wickliffe House in Dunedin should be painted.
The decision is now in the hands of Dunedin city councillors Kate Wilson (chairwoman), David Benson-Pope and Aaron Hawkins.
Consent is required from the council for the work because the 1970s-era building is in a protected townscape precinct zone, governed by special rules designed to protect the character of the precinct.
Building owner Plaza Property Trust says dozens of original pre-cast concrete panels covered with exposed and polished West Coast serpentine stone on the Princes St building's exterior are showing cracks and are in danger of ''failing'' if they are not fixed.
It proposed to paint the panels grey or black to cover the repairs and waterproof them.
But the company's plans struck opposition from various quarters, including council planner Sophie Lord, several engineers, heritage preservation advocates and architects, who said such a paint job would be out of place in the area.
They suggested other options that would retain the original look of the panels.
At a hearing in August, the trust argued suggestions such as colour-matching repairs or removing the aggregate, fixing issues and then replacing it were not feasible, mainly because of the cost, and other buildings in the Exchange area were painted, including Phillip Laing House and the former BNZ building.
The hearing was reconvened this week to hear more evidence about whether a clear silicone could be applied to protect repaired panels.
Submitters Steve MacKnight, Elizabeth Kerr and Russell Lund said it could and such a product was applied on Dunedin Hospital with no issues.
Ms Kerr said she was still against painting and was concerned the building's condition needed to be assessed and a trial repair to a panel done before going any further.
Her position was supported by Mr Lund, an experienced construction manager, called on by Ms Kerr to also give evidence.
But Plaza Property Trust counsel Phil Page said the trust had also investigated and did not believe there was an acceptable clear coat available for the job.
He maintained the trust's position that townscape precinct rules offered no direction on painting buildings, other than the colour of the paint, unless they were brick or stone, and the trust believed these panels were concrete.
He noted the Forsyth Barr building and Civic Centre in the Octagon heritage precinct and the University of Otago's Richardson and Science 3 buildings had all been painted.
He said if the proposed method of repairing this ''concrete cancer'' was good enough for those buildings, it was good enough for John Wickliffe House.
Having heard all the evidence, Ms Lord said her position remained the same and recommended the panel give most weight to the effect potential alterations to the building would have on the townscape.