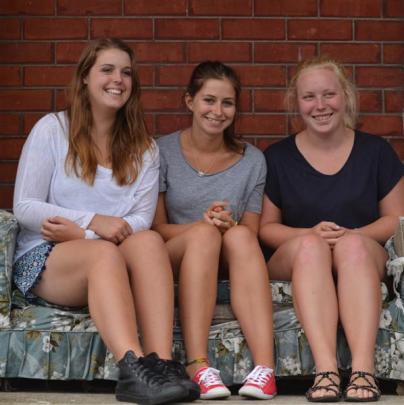 The image of Dunedin students willing to live in cold, rundown and squalid hovels as long as they get a good deal - reinforced by the 1999 film Scarfies - is one of the enduring stereotypes of Dunedin students, but is it correct? Timothy Brown visits ''studentville'' to find out what student accommodation is like and why students choose to live where and how they do.
Students rugged up in duvets and sleeping bags unwilling - or unable - to light the fire or turn on the heater in the late-19th century house that barely stands around them.
It is an image as synonymous with student life in Dunedin as blue and gold harlequin jumpsuit-wearing scarfies on the terraces at Carisbrook.
But, like Carisbrook, the walls are coming down; students are expecting more and living standards are going up, Otago University Students' Association president Ruby Sycamore-Smith says.
''Last year, we did landlord and flat of the year and really supported the landlords,'' Ms Sycamore-Smith said.
''It was really good to see the number of students who were really proactive and passionate about the hard work that their landlords are doing.''
While living standards may be improving, there is more work to be done, she says.
''There are some landlords that are excellent, but at the same time there are landlords that don't care.''
Students should ensure their flat ''is up to a suitable living standard'' before they sign up and move in, she says.
However, third-year University of Otago students Eilish Weterman (19), Rebecca Jackson (20) and Paige Searing (20) are typical of those who are choosing affordability over luxury.
Their flat in Harrow St is not ''flash'' and is ''a little bit darker'' than they had hoped for but is, in their own words, comfortable and an improvement on the flat they lived in last year.
''We wanted something that's warm and decent,'' Miss Weterman said.
Their flat last year was draughty and had mould problems, issues that are not uncommon for student flats but that students are becoming more careful because of the cost of rent.
They each pay $110 a week and their current flat is value for money, they say.
''Last year, we were paying $125 and it wasn't as good as this,'' Miss Jackson said.
Location was also important to them and they were not alone in that regard.
For second-year students Andrew Lindsay (19) and Joe Larson (18), location was the main factor in selecting their flat in Albany St.
The roughcast house was far from glamorous but ''for flat standards, it's pretty good'', Mr Lindsay said.
''There's definitely worse-condition flats that people pay more for per week than us,'' Mr Larson said.
The pair and their three flatmates pay $115 each a week, which allowed them to live the lifestyle they desired in a location close to campus and town.
They did not want anything more upscale, as ''it's going to get messy at times'', Mr Larson admitted.
The women in Harrow St echoed their thoughts.
''We don't want flash, just in case anything does happen,'' Miss Searing said.
However, all agreed you got what you paid for.
It was why fourth-year surveying student Jarred Lloyd (22) chose a house that was ''pretty much falling to bits''.
''My ex paid $150 [a week] down on Harbour Tce and that was a nice house and my girlfriend paid $115 over on Hyde St and that was all right, it wasn't amazing, but this is what you get for 70 bucks,'' Mr Lloyd said, gesturing at his surroundings.
The house in Vire St was dark, damp and cold with only ''heaters and blankets'' for comfort, but it was worth paying less to be able to save money, he said.
''It's getting a little bit too expensive now [to flat in Dunedin] because we are only getting about $170 a week,'' he said.
''A decent flat costs about $110-$115 and you have got bills on top of that and after you buy food, you don't have much money to do much else.''
All the students signed up for their flats well before the end of last year. That was necessary because flats, especially good ones, got ''snapped up pretty quickly'', Mr Lindsay said.
It was a practice Ms Sycamore-Smith discouraged.
''Students don't have to lock in these flats they aren't comfortable living in because there's good landlords ... in Dunedin with a house for them to live in,'' she said.
She encouraged students to shop around and not agree to terms they were not happy about.
Dunedin Mayor and student landlord Dave Cull agreed students should not sign up to living through a ''grungy year''.
''In some years, I have seen really good top-quality flats sit empty two blocks across from campus, so the choice is there,'' he said.
He was heartened to see ''the standard of student accommodation has risen remarkably'' in recent years.
''There's some extremely good standard accommodation.
''Some second-year students come out of hostels and there's a certain cohort of them that want to be in Castle St. Some of them want to go through a grungy year and the landlords know those flats will be snapped up no matter the state they are in.''
It was one of the reasons the Dunedin City Council was trialling a ''housing warrant of fitness'' scheme.
The results of the trial would be available in March and might have implications for all renters in Dunedin.
''There needs to be minimum standards for rental housing across the board,'' Mr Cull said.
Ms Sycamore-Smith said she would also like to see minimum standards, as OUSA was still hearing ''some real horror stories''.
If landlords kept their end of the bargain and provided adequate housing, student behaviour would follow.
''If you have got a good learning environment and a beautiful environment that you respect, then obviously students are going to be proactive about [maintaining] that,'' she said.
Otago Property Investors Association president Wendy Bowman said older properties presented a dilemma for landlords.
''Often the best solution is to demolish and rebuild, because it costs a lot of money to bring these buildings up to code these days.''
Subsidies were available to landlords affiliated with the association and improving the standard of the house could be the difference between it being rented or sitting idle.
She agreed with Ms Sycamore-Smith that the treatment of the property was linked to its maintenance.
''Any good property will be treated well,'' she said.
''If it's a rundown property people generally aren't as nice in their treatment of [it].
''It's imperative that landlords ... put some money into their property, then it's up to them to choose the right tenants.''
Ms Sycamore-Smith conceded it was not an easy task, but OUSA wanted to work with landlords to improve living standards and student behaviour to create a desirable outcome for all parties.