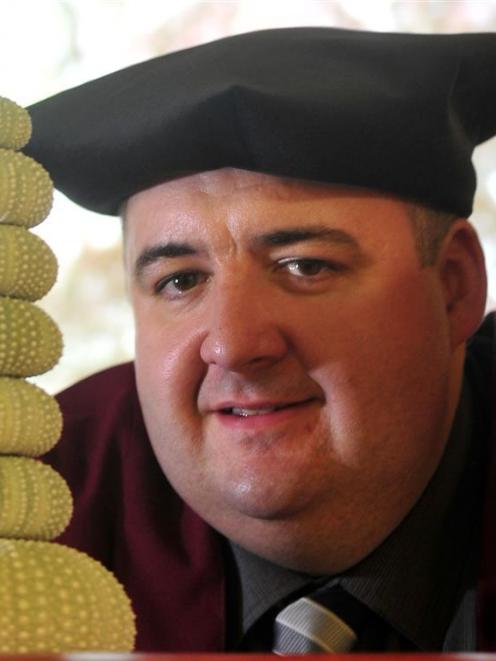 Daniel Garama has realised his dream of becoming a biochemist and his research on sea urchins could help develop a lucrative aquaculture export industry.
Mr Garama (30) will today gain a doctorate from the University of Otago, as one of about 350 graduands in all disciplines who will graduate in person in a 3pm ceremony at the Regent Theatre.
"Obviously, I'm proud," he said yesterday.
He felt "a sense of fulfilment" to have finally reached his goal, after many years of hard work.
"But I haven't achieved it by myself."
Mr Garama, who grew up in Invercargill and is of Ngai Tahu descent, said many people, including friends, family and university colleagues, had provided crucial support.
His research, involving the colour of kina (sea urchin) roe, has been highly multi-disciplinary as can be seen from his supervisors: Dr Alan Carne, of the biochemistry department; food science department head Prof Phil Bremer; and marine science Associate Prof Mike Barker.
University officials said sea urchin roe was regarded as a delicacy in Japan, where it was eaten raw as sushi, and top-quality Japanese roe could fetch up to $1200 a kg there.
However, the colour of New Zealand kina roe was inconsistent and often darker than the bright yellow-orange colour considered most desirable in the Japanese market.
Mr Garama has studied the way carotenoids, pigment molecules in the kina's seaweed diet, were modified in the kina gut and ovaries, and shown how changes in diet could help produce favourable changes in colour.
Prof Bremer said high-quality roe from New Zealand could, in future, fetch $400 to $500 a kilogram as an export product.
Mr Garama's research was academically valuable and could also help in developing a potentially lucrative export industry.
"It shows the kina industry a strategy they could use to enhance the colour of the roe," he said.
Mr Garama said in fishing circles, kina, which grow on rocks in coastal areas, including Fiordland, were sometimes regarded as a pest because they ate kelp beds, but actually could provide high-value exports.
He is keen to pursue his research, including through larger-scale kina dietary trials.