There was a tinge of red in the sky as dawn broke in Dunedin as thousands gathered for the dawn service at the Cenotaph in Queens Gardens.
The Dunedin Anzac address was given by Air Force Group Captain Carl Nixon, who reflected both on New Zealanders who died in overseas wars, and on the New Zealanders who had died in the Christchurch mosque attack.
He said a theme of the earliest Anzac Day services had been of people striving to make the world a better place and to see the good in others.
"That is especially relevant today as we think about the terror attack in Christchurch,'' Gp Capt Nixon said.
"As a nation we are still grieving for those who were lost, for the suffering of families and also for the knowledge that this kind of crime could happen in our world.
"But we have also seen the resolve for a strengthened and inclusive community where such hate cannot exist.''
Dunedin RSA president Lox Kellas said the timing of Anzac Day so close to Easter meant numbers at the city's memorial service were slightly down on last year, but he was still heartened that thousands had taken time to remember those who had served.
"All in all it was great, and it was especially good to see all the younger people, there were a lot of students here today, which was marvellous.'' 
The security presence was heavier than previous years, with police cars and armed officers blocking main roads leading to the Cenotaph.
In Mosgiel about 1500 gathered for a service held at the Cenotaph at Memorial Gardens.
Andersons Bay
About 400 people attended the Anzac Day posy laying ceremony at Andersons Bay Cemetery.
RNZMVR coxswain Pete Gee said it was a smaller turn out than previous years.
He believed it may be because the day of remembrance fell during the school holidays this year and many families had decided to remain on holiday rather than attend.
About 40 girl guides, brownies and scouts laid posies on the graves of fallen soldiers in the services section of the cemetery, as the Last Post and Revelle were played by Kaikorai Metropolitan Brass cornettist Mat Patchett.
The posies, containing a sprig of rosemary and red paper, symbolise remembrance.
The ceremony was a family affair, and unlike many other services around the city, there was no police presence.
PEACE CEREMONY
About 70 people attended the Anzac Day Peace Ceremony at the peace pole on the Museum Reserve yesterday.
The event was organised by the Quaker community and the University of Otago's National Centre for Peace and Conflict Studies, to allow Dunedin residents to grieve for all who had suffered from war and conflict.
It was also to honour those who had worked for peace and social justice, resisted war and violence, and committed to building a just and peaceful world.
The informal atmosphere of the gathering was highlighted by the Otepoti Peace Choir which sang Down by the Riverside and If I had a Hammer.
The ceremony finished with the tying of white ribbons around the peace pole.
 
Dunedin services, parades and posy layings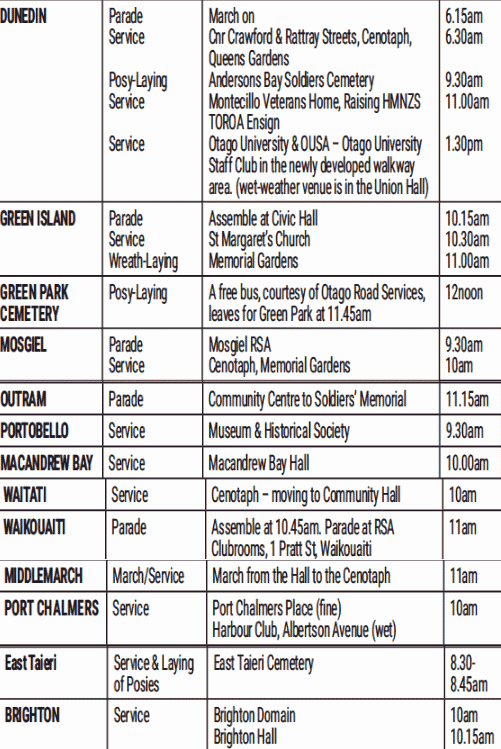 Other Dunedin Anzac Day events: 
DUNEDIN'S NORTHERN CEMETERY
Guided tour at the Northern Cemetery.
Memorials to Fallen Soldiers from the South Africa War, WW1 and WW2.
11.00am, Sextons Cottage Northern Cemetery, Lovelock Avenue
Trail brochures $3.00.
ANZAC DAY MEMORIAL RUN, JOG & WALK
Bayfield Park to Soldiers Monument – Meet at Guthrie Pavilion Bayfield at 1pm. Gold coin donation.
ANZAC REVUE CONCERT
Dunedin RSA Choir Revue Concert in Town Hall commencing 6.30pm.
DUNEDIN RAILWAY STATION
A service will take place at 9am before our 9.30am train departs and will be predominantly for staff and any visitors.