A regional state of emergency is in place for Otago due to widespread flooding across the region. 
Civil defence staff are actively responding in Waitaki, Dunedin, Clutha and Central Otago districts as rivers are rising rapidly.
Evacuations are under way in Henley, within the Dunedin City boundary. There are also reports of streams overtopping in Lawrence and Ida Valley.
In South Dunedin, heavy rain has infiltrated the wastewater system. The overflows are contained on roads, but people should stay out of floodwaters in these areas and treat them as contaminated. The Dunedin City Council has opened all available bypasses to alleviate pressure on the system.  
The Clutha District Council  has asked motorists to stay off the road if they can, due to surface flooding throughout the district. 
Oamaru is experiencing widespread surface flooding in the north part of the town, and it is understood some power is out.
State Highway 1 has closed between Waitati and Palmerston and also near Waimate due to flooding.
NZTA is warning people to avoid unnecessary travel on the highway from Christchurch to Oamaru. Many parts are near impassable and conditions treacherous, it said.
There is surface flooding on many Oamaru streets, including State Highway 1 from Waitaki Bridge to Oamaru.  At least two bridges crossing Chelmer Street, Oamaru have breached, with another likely to breach very soon. 
Whitestone Contracting Ltd are placing sandbags in residential properties in Chelmer Street, Walbrook Crescent, and Conway Street.  Residents from a Walbrook Crescent house have been evacuated.
The Waitaki District Council asked people to stay off streets and stay at home if possible.
If people feel they needed to evacuate they should go now while there was daylight, a spokeswoman said.
Emergency services are responding to multiple calls and some businesses were closed early for the day.


More than a month of rain has already fallen in Oamaru today. Niwa climate scientist Nava Fedaeff said the average rainfall in Oamaru in July is 40.6mm. Between 6am and 5pm on Friday, 63.6mm of rain had fallen.
About 30 to 40 people were without power at lunchtime for half an hour at the top of Eden St in central Oamaru as the heavy rain affected a distribution substation, Network Waitaki network manager David Paterson said.
Waitaki Mayor Gary Kircher emergency operations centre has been activated in Oamaru and council staff were checking the situation around the town.
If anyone has any concerns about their property flooding they should contact the emergency services. People should not travel if it was not essential.
The council would continue to monitor the situation, Mr Kircher said. 
Timaru District Council declared a state of emergency and has warned residents to prepare to evacuate.
EOC Controller Justin Bagust said people in particularly flood prone areas should now be making preparations in case they have to evacuate at short notice.
"We would strongly advise people in these areas to get themselves prepared to leave as soon as they feel at risk, not to wait for any official notification," he said.
Wild weather has been lashing the Otago region and has caused power cuts in Dunedin, widespread surface flooding and massive waves on the coast.

Flights
Flights to and from Dunedin Airport have been cancelled this afternoon.
The Jetstar flight from Dunedin to Auckland at 4.15pm has been cancelled.
The cancelled flights include Air New Zealand flights to and from Auckland and Christchurch and suspended operations to and from Queenstown Airport, with crosswinds causing ''significant disruption" to the national carrier's operations.
An airline spokeswoman said the situation was ''not expected to improve'' today.
By 4pm just five of the 25 scheduled flights from all operators had landed, and six of the scheduled outbound flights had taken off.
Air New Zealand was working with customers to arrange re-accommodation on alternative services, the spokeswoman said.
This morning it cancelled six departing flights, one to Christchurch, three to Auckland, and two to Wellington.
It has also cancelled eight inbound flights; two from Christchurch, two from Wellington, three from Auckland and one from Sydney.
The Highlanders scheduled flight to Christchurch at 5.30pm today was cancelled because of the bad weather. The team is supposed to play against the Crusaders tomorrow night in Christchurch but may be forced to not leave until tomorrow morning.
Air New Zealand is advising customers booked to travel to and from Dunedin to consult the arrivals and departures information on their website here for up to date schedule information.
Customers who no longer require to travel now automatically have the option to transfer their booking to another date or hold the fare value in credit for up to 12 months toward future travel without the need to advise their contact centre today, 
an Air New Zealand spokewoman said.
Air New Zealand would work with customers still requiring travel to arrange re-accommodation on alternative services.

Flooding

SH85 from Omakau to Idaburn has been closed by flooding.
Dunedin police officers were helping home owners to protect themselves from flooding by preparing and installing sandbags. City council staff, contractors and civil defence personnel are responding to issues related to severe weather across the city.
Dunedin City Council Civil Defence Controller Sandy Graham said the personnel from key agencies were working together to co-ordinate the response and use resources efficiently.
Some coastal roads, for example Aramoana, were affected by some surface debris at high tides.
At 5pm, Enterprise Dunedin sent an email encouraging people with businesses in Mosgiel to start sandbagging as surface flooding had begun in the suburb.
"We have crews out in Mosgiel, as well as other parts of the city, responding to flooding-related issues," Ms Graham said.
Anyone wanting to report flood-related issues with DCC services should call us on 03 477 4000 to report it.
Anyone who feels their safety is in danger or who has water entering their house or business should call emergency services on 111," Ms Graham says.


For Mosgiel people concerned about rising water and wanting to divert running water, sandbags and sand are available from the Memorial Park car park beside the stadium/Mosgiel Memorial Gymnasium.
Sandbags are also available in South Dunedin at the carpark behind St Clair Tennis Club, Victoria Rd.
Where possible, people should bring a shovel to fill the bags, although contractors are available on-site at both locations to assist with filling and loading.
Rainfall on Friday between 4am to 8pm (mm):
Alexandra: 0.6
Balclutha 18.2
Cromwell 3.4mm
Dunedin Airport 53.8
Dunedin City 44
Oamaru: 94.8
Queenstown Airport: 1.4
Roxburgh: 33.0
Wedderburn: 25.0
Source: MetService
Information Centres
As a precaution, Dunedin City Council has opened information centres in South Dunedin and Mosgiel as places where people can go for more information and which can also potentially be used as welfare centres if the need develops.
The centres are currently staffed and are located at:
Mosgiel – Fire Station Theatre, 3 Cargill St
South Dunedin – The Mercy Room, Catholic Social Services, 42 Macandrew Road
Roads & stormwater
The DCC recently completed a full cleaning programme for the city's 8000 mudtanks.
Additional checks of mud tanks in low lying and high risk areas are taking place. Road maintenance contractors continue to sweep gutters around the city. Crews will continue to work throughout today and overnight.
If able, people should the gutters and grates on your street for leaves and debris. This will help water get into the tanks and reduce the risk of surface flooding. Please remove any debris well clear, so that it cannot flow back on top of grates.
There are several road and ford closures in place as a result of flooding, mostly in rural areas. A full list of road closures and conditions is available online at www.dunedin.govt.nz/road-conditions.
The MetService has advised that rain may turn to snow near the summit of the Dunedin-Waitati highway overnight tonight (Friday), and 3 to 6cm may accumulate through to Saturday morning.
All DCC stormwater screens are clear. "We are continuing to monitor the situation and crews will be checking screens to ensure they are kept clear of debris."
Sportsgrounds & Freedom Camping
DCC sportgrounds have been closed for the weekend due to the weather. The club rugby semi-finals may still go ahead at Hancock Park on Saturday depending on the weather. The decision will be made by the Otago Rugby Football Union.
Due to the weather the DCC recommends all freedom campers find alternative accommodation rather than staying at either of the DCC's two freedom camping sites tonight.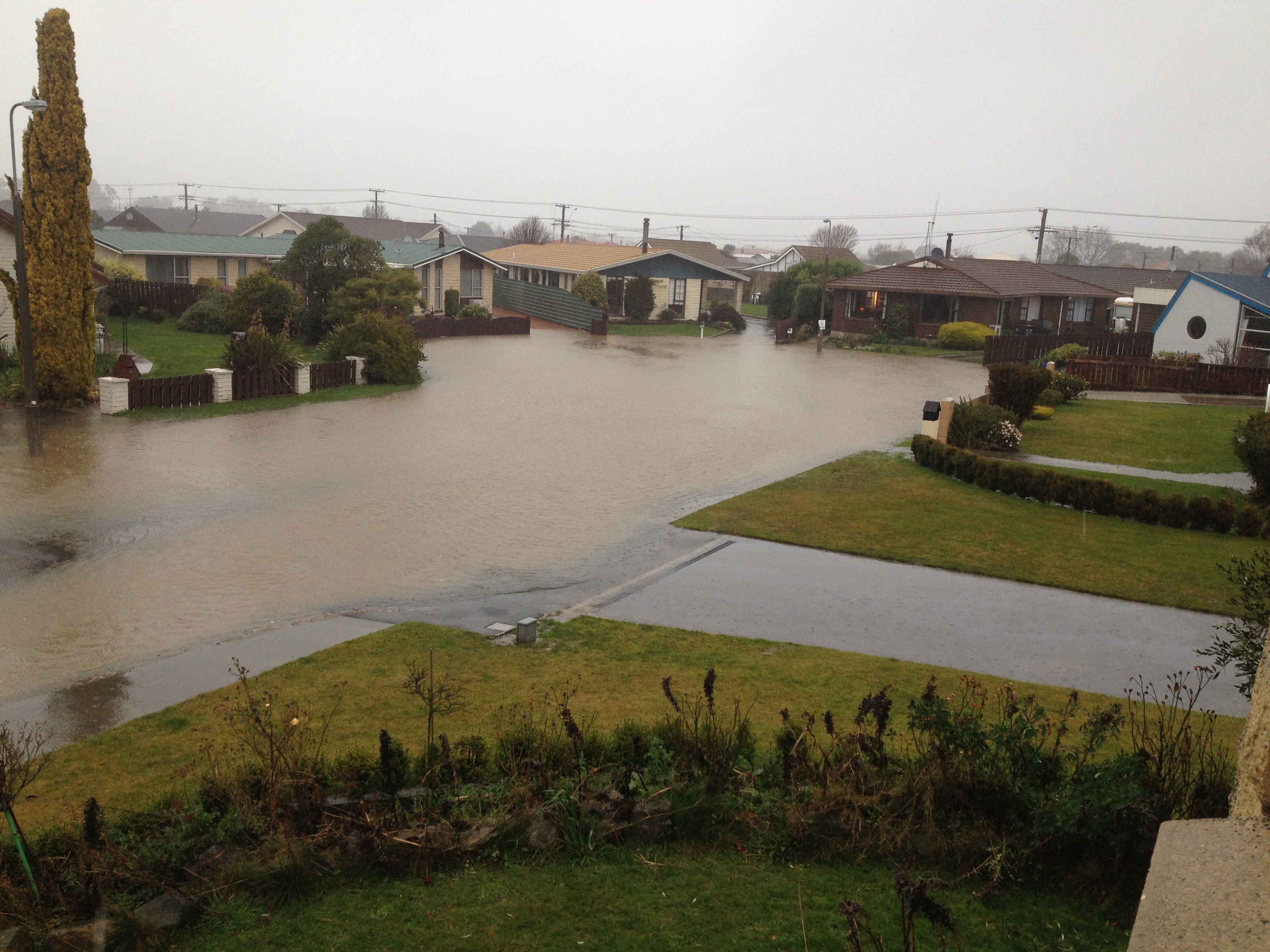 General preparedness
The council encouraged all residents and businesses across the city to make their own preparations. Residents in low-lying areas who feel concerned should make plans to self-evacuate themselves to stay with friends or family who live on higher ground should it be required later on. Check on neighbours, particularly if they are vulnerable.
Check spoutings and drainage channels for blockages and clear them if necessary
If your basement is prone to flooding lift items that could be damaged by water off the floor. Be sure garden sprays and other chemicals won't be affected
Check grates near your house for blockages and keep them clear of leaves and other debris to avoid water building up and affecting your property.
Where to get information
For the public to keep up to date with what is happening and for advice about what to do if the rain gets worse, poeple should check the DCC website, DCC social media, listen to the radio and use other media.
Areas throughout the region are experiencing surface flooding, power is out in some Dunedin suburbs, several residents in Timaru are being advised to evacuate as heavy rain hammers the regions and heads south.
Power has been cut to about 100 customers in Green Island, Fairfield and Abbotsford suburbs of Dunedin after a power line came down.


Aurora Energy says it has a response crew working to fix the fault and power was expected to be restored by 5pm. 
Local authorities raced against the clock yesterday to prepare East Otago for today's forecast downpour, expected to be worsened by king tides and strong winds.
Niwa climate scientist Nava Fedaeff said the flood risk was a "real concern" as nearly 200mm of rain forecast was for eastern parts of the province.
Dunedin
Dunedin's emergency operations centre has been activated as the city prepares for the worst as a damaging front heads south.
Dunedin Civil Defence Controller Sandy Graham said personnel from key agencies were working together to co-ordinate the response and  efficiently manage the needs of the community.
A state of emergency had not been declared and there were no major issues related to heavy rain at this stage.
A police spokeswoman said a tree blocked the off ramp to Mosgiel from the Southern Motorway for a short time after 6pm, but had since been cleared.
Police had also recently been called to reports of flooding in Burkes Dr, St Leonards, and in Blundell Ave, Port Chalmers.
There was some surface flooding in Mosgiel and isolated areas in South Dunedin, which was being closely monitored. 
"There has been steady rain in the city today, but the worst of the weather is still north of Dunedin and appears to still be tracking slowly south.
"The heaviest falls are expected this evening and overnight.  We continue to prepare for the worst and hope for the best," Ms Graham said.

A police spokeswoman said police were told a  car was stuck in rising floodwaters at the intersection of Pine Hill and Weston-Ngapara Rds in Corriedale at 5.20pm.
The driver climbed out of the car and was standing on its roof when they called Police. A farmer used his tractor to rescue the man about 5.40pm.
The Otago Regional Council's flood management team advised the following rivers were rising steadily: the Kakanui, Shag and Taieri Rivers, the Silver Stream, Water of Leith and the Lindsay Creek.
Natural Hazards Manager Jean-Luc Payan said the rivers were expected to continue to rise overnight.
His team will be on duty through the night, monitoring and modelling the impact of the rain as it moved across the region.
They were  in constant contact with Emergency Management Otago, who were also working through the night.
King tides and waves up to 6m were expected to hit the Otago coast  today and tomorrow.
Dunedin City Council chief executive Sue Bidrose said the heavy rain had the potential to cause flooding, slips and disruption to transport.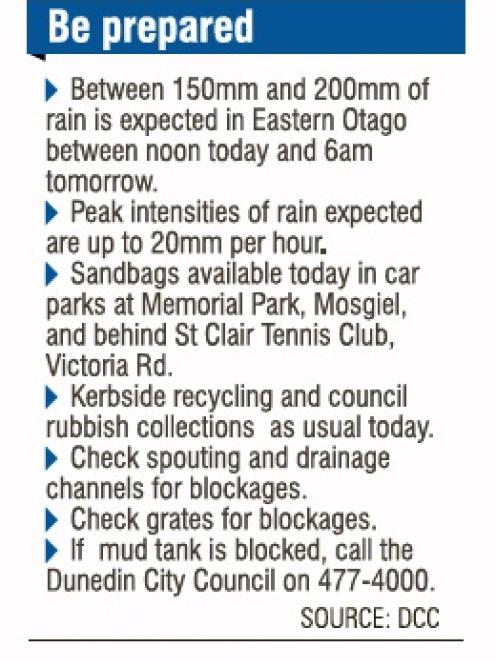 Contractors were working to ensure "the city was prepared for the downpour".
Road maintenance contractors swept  gutters across the city yesterday.
Mud tanks in  low-lying and  high-risk areas had been checked.
All stormwater screens were clear, Dr Bidrose said.
Crews would continue to check screens to ensure that they were kept clear of debris, she said.
The Civil Defence Emergency Operations Centre were establishing information centres in South Dunedin and Mosgiel as a precaution, and could be used as welfare centres if the need arose.
Otago Regional Council environmental monitoring and operations director Scott MacLean said surface flooding was expected in low-lying areas, including South Dunedin.
"People in coastal areas throughout Otago should be aware of the potential for flooding, with a combination of heavy rain and storm surges, with galeforce winds and high tides also forecast," he said.
The council would be  monitoring river levels in Eastern Otago.
Several rivers were expected to "rise rapidly" including the Kakanui, Shag, Kauru and Waianakarua in North Otago and Silver Stream, Taieri River and the Leith in Dunedin.
Works on the Leith and other coastal catchments had been suspended.
The priority was to keep river channels and floodways clear for heavy flows, he said.
Emergency Management Otago regional manager Chris Hawker said his staff were "ready to activate in support" of the councils in Dunedin and Waitaki.
The district contractors had cleaned all the grates on the mud tanks, cleared slot crossings and flood signs were ready to be deployed.
Fire and Emergency New Zealand Senior Station Officer Pete Douglas, of Dunedin City Station, said crews in Dunedin were remaining "vigilant and alert".
Senior Sergeant Mark Donaldson, of Dunedin, said police were taking the threat of the storm seriously.
"People should drive to the conditions and don't go out if you don't need to."
Clutha District civil defence staff were also monitoring the weather and would issue updates if necessary. 
MetService said this morning forecasts periods of heavy rain were expected until Saturday lunchtime.
Planned power outages for Cromwell and South Dunedin have been postponed by Aurora Energy due to the weather. 
The launch of the Green Party's "Great Together" tour in Dunedin this evening is going ahead despite co-leaders Metiria Turei and James Shaw not being able to attend because their flights were cancelled.
Mosgiel amateur forecaster Ben Hawke (13), who featured in the ODT last week,  said he expected the intensity of the rainfall in the storm "to make its way into the record books".
South Canterbury
The Timaru Civil Defence Emergency operations centre is advising all residents in flood prone areas to get everything they need together to evacuate their homes quickly.
EOC Controller Justin Bagust said that people in particularly flood prone areas should now be making preparations in case they have to evacuate at short notice.
"We would strongly advise people in these areas to get themselves prepared to leave as soon as they feel at risk, not to wait for any official notification.
"This is a quickly developing situation and people need to be ready to go. This means ensuring you have clothes and fuel, as well as things such as knowing where family pets are.
"We are continuing to monitor the situation to ensure people have notification, but our strong message is that if people feel at risk at the moment they should evacuate themselves to friends or family."
North Otago
The weather is currently striking hardest in North Otago this morning, with surface flooding at Kakanui and inland from Maheno. The NZTA has warned drivers to take extra care on SH1 between Pukeuri and Maheno where there is surface flooding in parts. The road remains open.
Waitaki District Council communications adviser Alena Lynch said the council was monitoring its roads.
She said council staff would activate civil defence if it was necessary.
Surface flooding was widespread in Oamaru with most State Highway 1 intersections in town experiencing surface flooding.
The Oamaru Volunteer Fire Brigade had been busy since about 12pm, had three trucks running, and had attended about "half a dozen" call outs, a spokesman said. 
The Oamaru Fire Station had experienced some flooding, but the station was being cleared by a local contractor, was "just above the water line" and the flooding was not affecting crews. 
The council's website showed Dansey's Pass Rd closed due to snow and Boundary Creek Rd closed due to damage done today.
Central Otago and Lakes District
Niwa said the rain would be lighter in Central Otago and the Queenstown Lakes District than in Eastern Otago.
Alexandra should expect up to 25mm  and Queenstown up to 15mm by tomorrow.
However, the Central Otago District Council said Manuherikia and Maniototo areas are being heavily effected by flooding from rain and snow melt. River levels were rapidly and Roxburgh and Cromwell have isolated surface flooding issues. 
Flooding in the Maniototo forced the closure of nearly 10 roads in the area yesterday, especially around Naseby.
Ranfurly Volunteer firefighter Adam Becker said at 6pm yesterday there had been no callouts. The town experienced heavy rain for most of the day, but it was worse between Ranfurly and Omakau, he said.
Roxburgh chief fire officer David Rooney said heavy rain caused the town's bowling green to flood, but the brigade had no callouts as of 6pm.
Cromwell experienced minor flooding, which eased by late afternoon.
High winds also forced the Remarkables ski area to close this morning due to "exceptionally strong winds'', forecast to strengthen during the day, blowing snow, and low visibility.
While Coronet Peak remained open, the ski area cancelled scheduled Friday night skiing due to forecast low visibility and strong winds.
Ski area manager Nigel Kerr said the ski area closed the Greengates Express chairlift just after 2pm, while the Coronet Express chairlift remained on hold.
Coronet Peak skifield reports snow has been falling in Canterbury since midnight and that snow had started falling on the peak this morning. It is expected to fall down to 800m in the high country and 600m in Otago tonight.
The weather is also impacting flights to and from the resort.
 - additonal reporting by staff reporters