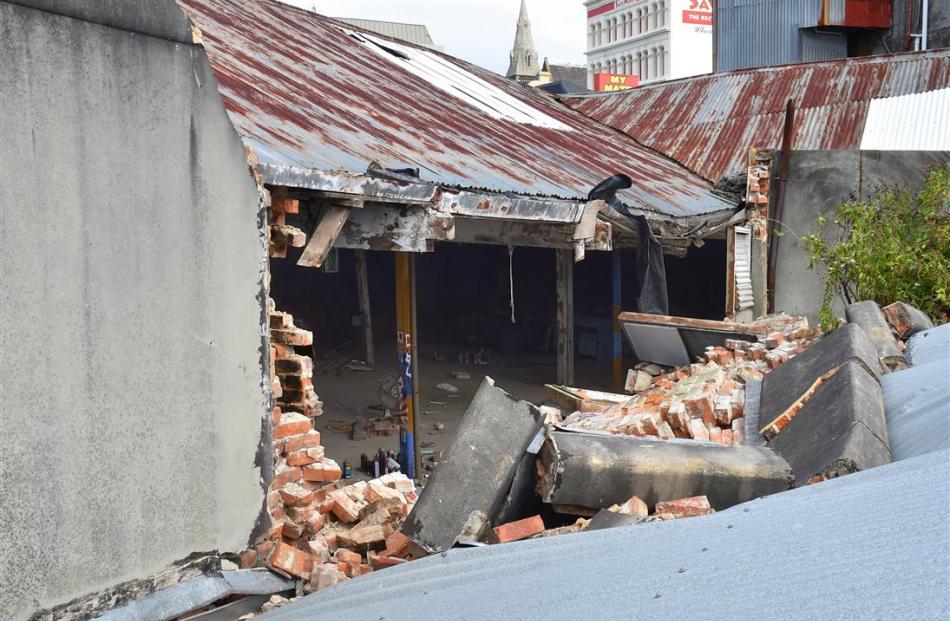 Part of a historic Dunedin building's wall has collapsed on to an adjoining building's roof, leaving the roof buckled under several tonnes of brick and plaster.
The damage to the buildings, at 380 and 386 Princes St, will be assessed today in a meeting between the Dunedin City Council and the buildings' owner, Christchurch developer Luke Dirkzwager.
The damage was first noticed by Jon Leng, the owner of the nearby Empire Hotel at 396 Princes St, who "noticed something wasn't right'' on Saturday.
A regular at a cafe across the street, Mr Leng, who is renovating the Empire Hotel, said he was used to looking up at the buildings "and making sure everything is level and square on mine''.
He would normally look into the top floor windows of the vacant and condemned 386 Princes St and see nothing but blackness behind them, he said.
"But this time, I could see right through, So I thought I'd go and inspect it.''
What he saw was the partial collapse of part of the building's second-floor wall, leaving what he thought to be some three to four tonnes of debris on the neighbouring roof.
Visible behind the damaged building's fallen wall were exposed ceiling beams and a floor littered with spray cans and a torn armchair.
Mr Leng called Dunedin City Council building services manager Neil McLeod, who visited the site the same day, determining no immediate action was needed.
Mr McLeod said today's on-site meeting would determine "what needs to happen going forward'', including whether an engineer's assessment was needed.
The fallen wall was well away from the building's facade and offered "no immediate danger'' to pedestrians in Princes St, Mr McLeod said.
While wall collapses of this sort were not common, they did happen in Dunedin every few years, he said.
The buildings were both part of a large block from 372-392 Princes St owned by Mr Dirkzwager and consented to be developed as part of a multimillion-dollar mixed-use project.
The 2014 consent meant all but three facades, those of 380, 386 and 392 Princes St, could be demolished to make way for the retail and apartment development.
Mr Dirkzwager said yesterday the development was still in the "costing process'', and no more information on the project's future would be available until that process had been completed.