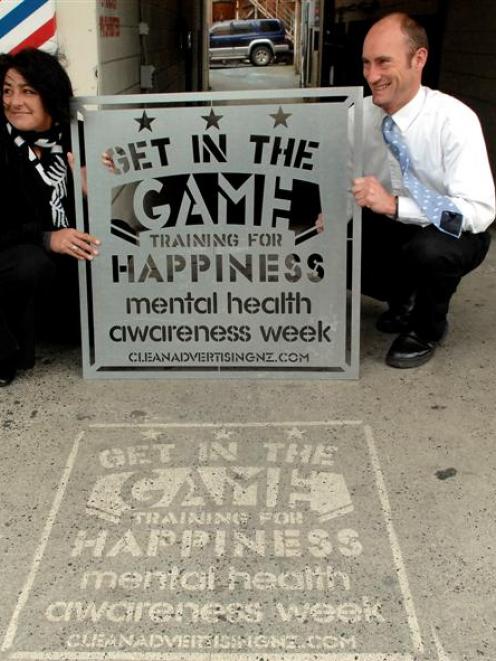 It may be harder than usual to keep your chin up during Mental Health Week this week.
The Mental Health Foundation is promoting the campaign with an innovative advertising medium which it hopes will have people walking around looking downcast.
The foundation has collaborated with Dunedin company Clean Advertising NZ to create advertisements out of the dirt on footpaths.
"We use stencils and a water blaster to remove pollution and create temporary advertising images on the footpath," Clean Advertising NZ co-owner Chris Wesley said yesterday.
"The images last for three or four weeks and have less than 10% carbon footprint. So, you're removing dirt to create advertising, rather than cutting trees down.
"It's sustainable and eye-catching and it's tapping into a domain that hasn't been utilised before."
The company was established by Mr Wesley and partner Jo Cook three months ago.
"We saw it on an overseas website and thought it was an amazing idea that nobody was doing here," Ms Cook said.
The company's first contract was with the Dunedin City Council to create liquor-ban stencils for the 2011 Rugby World Cup.
"We usually do it in the wee small hours when there's no traffic about. We started the Mental Health Week ones straight after the rugby on Sunday and did about 60 around Dunedin in four hours," Mr Wesley said.
"The Mental Health Foundation does a fantastic job at raising awareness and acceptance of mental-health issues, so we offered our help for free to help raise awareness and donations in Dunedin."
Mental Health Foundation chief executive Judi Clements said the "Get in the Game. Training for Happiness" slogan used in the stencils illustrated the dedication required to battle and beat mental-health issues.
"Like our physical health, our mental health requires effort and application." "Caring for our mental health should be a part of everyday life; in our interactions at home, in our communities, at work and with the people around us. Start small, work at it over time and you'll get in the game."
Mental illness and/or addiction affects 47% of New Zealanders at some time in their lives.
Mental Health Week activities in Otago include free "Laughter Yoga" sessions tomorrow from 5pm in the Wanaka St John's rooms and on Thursday from 12.15pm and 5pm in the Oamaru Plunket rooms, a Mad Hatter's Tea Party at Monkey Bar in Dunedin from 7pm on Thursday and the "Down the Track" Artsenta art exhibition at The Art Station, which opens on Saturday and runs until October 29.