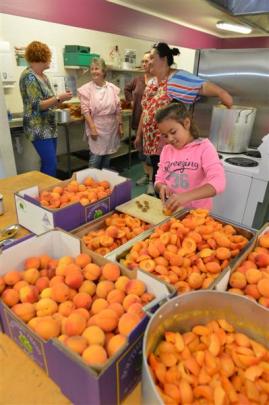 A taste of Central Otago will be sweet relief for Dunedin's poor.
About 200kg of surplus apricots from three Alexandra and Roxburgh East orchards has been turned into preserves and jam for the Salvation Army's Dunedin food bank.
The initiative was spearheaded by Te Hou Ora Whanau Services general manager Terri-Lee Nyman, as a collaborative community effort to support the food bank.
''The Salvation Army food bank usually has about 25 people needing food every day, and there is a shortage of spreads,'' she said.
Mrs Nyman involved University of Otago social work student Andrea Kingi, who was on a placement at Te Hou Ora Whanau Services, and sought the preserving expertise of SuperGrans Dunedin members.
She approached Central Otago orchardists to see if they would donate fruit, and started collecting preserving and jam jars from various organisations, including the Salvation Army and Te Whare Pounamu, along with the Rummage store.
Some jars were donated and Te Hou Ora Whanau Services paid for preserving seals and 100kg of sugar.
It also covered the cost of picking up apricots from the Summerfruit, H & J Roberts and Remarkable orchards on Monday.
Yesterday all the fruit was cut, cooked and stored at the Arai Te Uru marae in Shetland St, which Mrs Nyman hired for the purpose.
She started at 8am and worked through until about 6pm, aided by her granddaughter, Maruia Vaitupu-Bachop (10), and about a dozen others.
They produced about 70 jars of apricot preserves and about 200 jars of jam.
It was stored at Te Hou Ora Whanau Services and would be handed over to the food bank in a few days, Mrs Nyman said.
She is eager to repeat the process annually and is urging people to return jars to the food bank.