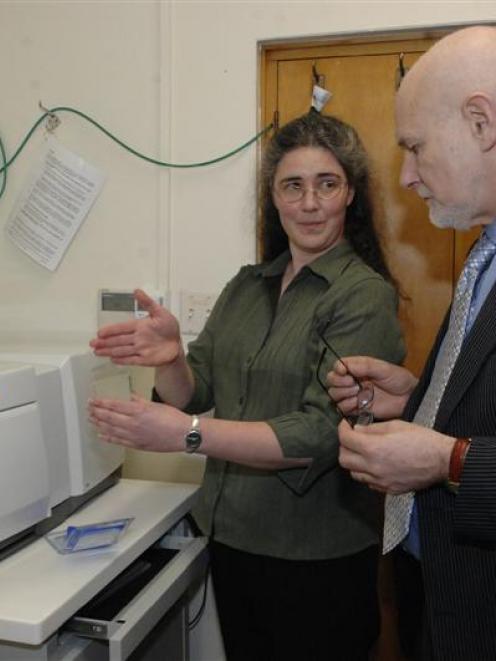 New Zealand's first state-of-the-art gene sequencing machine has proved a commercial success in its first year of operation, generating almost $2 million in revenue.
When the University of Otago's anatomy and structural biology department purchased the United States-manufactured Roche machine last year, nobody knew how much income would be generated from contracts, department head Prof David Green said.
"We thought were were being optimistic estimating it might bring in $500,000 in the first year, but the machine's popularity has exceeded expectations, bringing in almost $2 million."
It ran two to five times a week and 37 contracts had been completed, gene sequencing unit director Dr Jo-Ann Stanton said.
Research, science and technology minister Pete Hodgson was among about 30 people who attended a celebration of the machine's fanniversary on Friday.
The machine analyses the DNA of living things and produces highly detailed images which scientists called bioinformationists analyse for genetic patterns.
Those patterns can then be identified and used to improve the genetic quality of livestock and crops and to better understand and treat human viruses, diseases and cancers.
The machine was fast and accurate, Dr Stanton said.
"It would have taken years to sequence one bacteria.
"Now we can do that in an overnight run of seven and a-half hours."
One of the major contracts was for sequencing the DNA of six types of sheep.
AgResearch animal genomics principal scientist John McEwan, who attended the function, said the machine had been cost-effective for his organisation.
"An overseas project to sequence cattle cost $US60 million and took six years.
"We have done our project in New Zealand for $US2 million in one year."
Costs would continue to fall and Mr McEwan said he expected "everything connected to New Zealand's agricultural industry" would be sequenced within the next few years, including dairy bulls and cows, chickens, pigs, deer, kiwifruit, ryegrass, white clover and pests.
Prof Neil Gemmell, director of the university's Centre for Reproduction and Genomics, said the sequencer had important potential for the preservation of native flora and fauna.
He had already used the machine to sequence endangered blue ducks to find birds with genetic similarities to a particular population which could be introduced into that population.
It was hoped moving ducks between locations would improve breeding results.
Prof Gemmell said the machine would provide a cost-effective way to research species like kiwi, tuatara and kakapo.
He predicted business using the sequencer would "increase enormously".