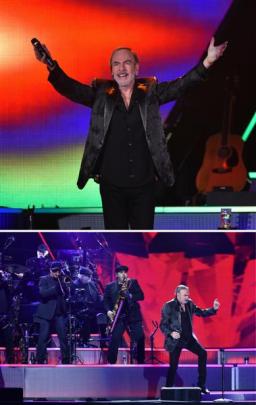 Neil Diamond proved to be a gracious and humble entertainer when he stepped on stage on Saturday night to entertain an enthusiastic if older audience.
Diamond wooed and wowed the crowd, extracting every ounce of energy out of his string of hits.
Particularly gratifying was Diamond singing nearly every song, note for note, word for word, from his recordings.
If someone in the audience had learnt a Diamond song 45 years ago, they could sing along without missing a word or a beat.
At 74, Diamond showed signs of ageing, such as a grey beard.
But his voice never faltered for two hours straight, followed by a 25min encore set.
Even the poses of old came naturally. Outstanding.
To be fair, he had work to do to win over some of the fans who had become restless waiting until 8.20pm for the start of an advertised 8pm concert.
Typically of Dunedin crowds, by 7.15pm the stadium seating was about half-full with the real rush of people coming in by 7.30pm, mainly in a happy and enthusiastic mood.
It was something of a reunion as fans recognised their friends.
Hugs, kisses and some enthusiastic back-slapping got the crowd into the party mood.
When the show got under way, the audience was treated to the All Blacks on screen performing the haka from last week's win over France in the Rugby World Cup.
Diamond started with the African-themed Soolaimon, backed by his exceptional team of musicians.
Despite his best attempts, only a few in the audience decided to clap their hands above their heads.
I'm a Believer, which he wrote for the Monkees (a huge 1966 hit), got a few more people clapping and waving.
But as Diamond worked even harder to regain control of the audience, the hits started flowing seamlessly and by Love on the Rocks, all had been forgiven and forgotten.
He raised the bar by commenting on how happy he and his band were to be in New Zealand, and Dunedin.
It was cold, but Diamond and his band were compensating by wearing long underwear, he noted.
And as he promised to stay long into the night, the audience was on its feet cheering and clapping and wanting more.
More was just the beginning. If someone could pick a concert of greatest hits, then Saturday night was their wish fulfilled.
By closing off part of the stadium with temporary seating, the concert felt more intimate than expected.
Red Red Wine, a 1967 Diamond song made into a hit by UB40 in 1983, had the audience up on its feet; the crowd was on fire.
After every set of songs, Diamond was so gracious in his thanks.
He basked in the adulation and was so humble for the praise. He realised this was an audience of converts.
Three songs from his new Melody Road album came at a good time.
The Art of Love took him five years to write, but the wait was worth it.
Then it was back to business with some hits from Hot August Night.
The encore included Sweet Caroline but the best was kept for last.
''Come back again'', Diamond crooned in Heartlight as not a few tears were shed by his fans. We hope he does.
More than a few in the 13,073-strong audience arrived on walking sticks and other supports.
A few arrived in wheelchairs. The stadium staff were wonderful in the help they provided throughout the night.
Probably, some of those who arrived on sticks left with a bit of a spring in their step.