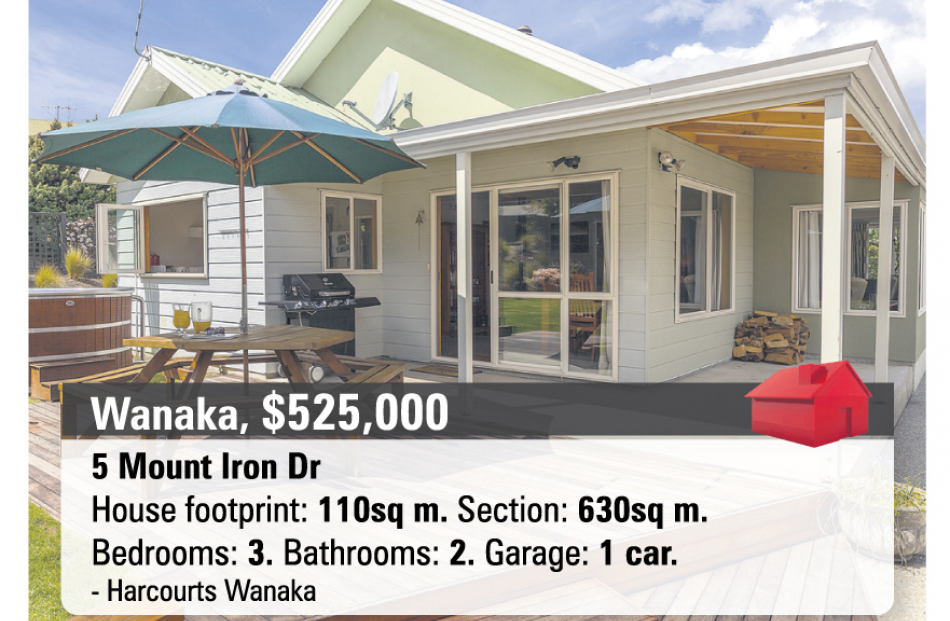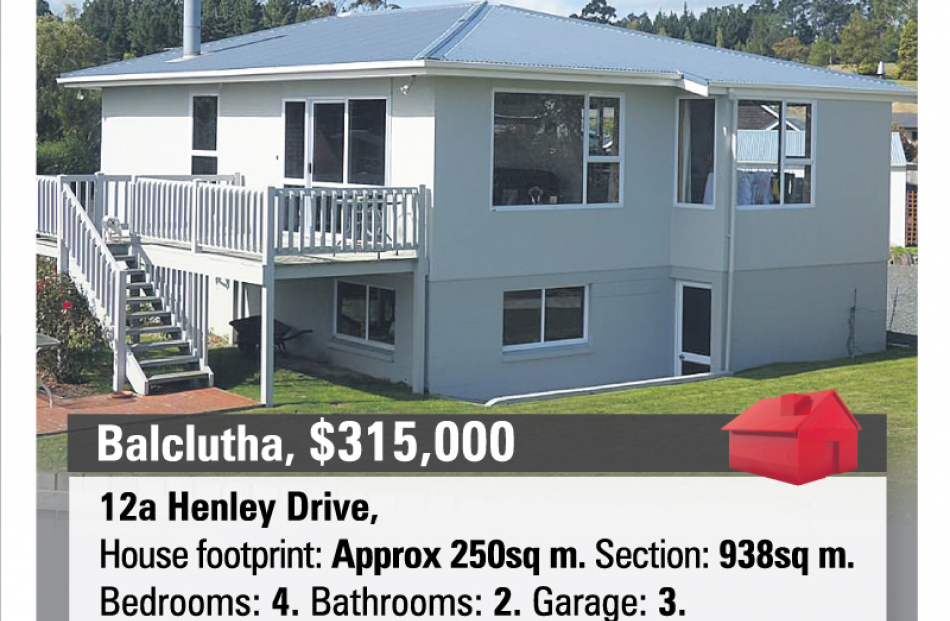 The average national asking price for a home has topped half a million dollars for the first time. The Otago Daily Times takes a look at what you can get around the province for that money.
Half. A. Million. Dollars.
No matter how you say it, it's a lot of money.
And that amount - $511,421 to be exact - is just how much the average asking price of homes for sale in New Zealand during February.
That figure from Realestate.co.nz marks the first-time sellers' expectations have broken through the half million mark.
So just what do you get for that kind of moolah in Otago?
In Dunedin you can get a three-bedroom home on a 956sqm level section in the desirable suburb of Andersons Bay.
The property, marketed by Geraldine Hermens of LJ Hookers, is on the market for a negotiable $449,000 and the overseas owners are selling well under its capital value of $530,000.
That listed price means you will be spending $62,400, less than the average national asking price, meaning you can buy a turbodiesel Audi A3 Sport sedan to park in the single-car garage.
Edinburgh Realty general manager Mark Miller said for half a million dollars you ''can get a really nice house''.
''That is a proper executive property in a good area, with most of the mod cons, in a reasonably sized section.''
Edinburgh Realty was selling a three-bedroom modern home in Helensburgh for $449,000, or if character was your thing, then a St Clair bungalow was available for $411,000.
For half a million dollars buyers could also have their pick of a lifestyle property, a commercial property close to the Octagon, or even a first home coupled with an investment property, he said.
Mr Miller said the amenities in Dunedin and Otago were second to none, but it was economic growth and jobs which would encourage people to move from a city such as Auckland.
Economic growth was a key driver for capital gains in property, which was evident in Auckland and most recently Christchurch.
He liked how some countries, such as Australia, awarded extra points for migrants to move to smaller areas.
If that legislation was adopted by New Zealand it would help lessen the demand on housing in Auckland while making smaller centres more cosmopolitan.
Meanwhile, the average asking price in Otago, according to Realestate.co.nz, was up 1.5% to $294,210.
For that price range buyers could get a three-bedroom art deco home on North Rd, North East Valley, or a three-bedroom villa on Galloway St, Mornington.
Buying a home close to the Southern Alps and lakes will cost on average double compared with the rest of Otago, and even higher than the national average.
The average price at Central Otago-Lakes is almost $620,000.
In Queenstown, the only properties being marketed by Harcourts in the Otago's average price range were sections.
The national average price tag was likely to buy you only a two-bedroom apartment in the resort.
In Wanaka, Eamon Young, from Harcourts, said the $294,210 price point was also getting harder to find. The only listing he had close to that price was a two-bedroom unit for $179,000.