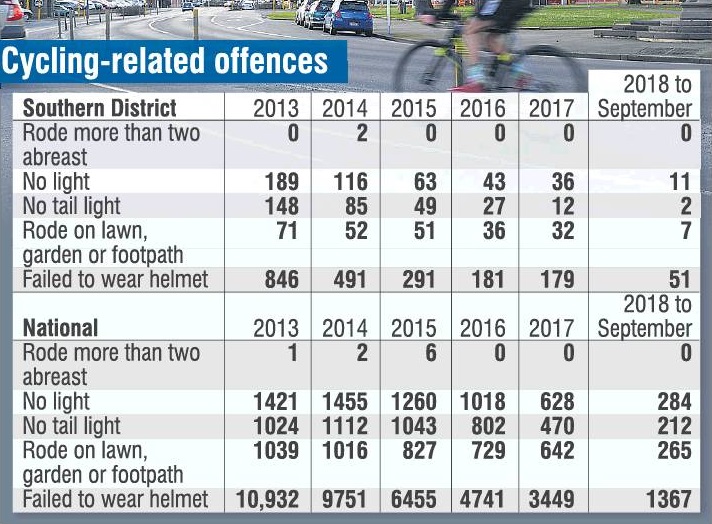 A dramatic drop in tickets issued to cyclists is a result of a shift in focus away from their behaviour on the roads, police say.
The fall comes despite growing anger from some drivers about cyclists, as work on cycle lanes in Dunedin continues to clog traffic flow.
An Official Information Act request to police discovered a remarkable drop in cycle-related offences.
In the Southern police district, tickets issued for failing to wear a helmet have dropped from 846 in 2013 to 179 last year, and just 51 in the year to September.
Tickets for not having a tail light dropped from 148 in 2013 to 12 last year, and only two so far this year.
For behavioural offences such as riding more than two abreast, figures are negligible.
There were just two tickets for riding more than two abreast in the South in the past six years, both in 2014.
National figures show a similar trend.
Cyclists slowing traffic on roads such as Portobello Rd have attracted a lot of comment on social media recently, and anger towards cyclists has been in the news.
Asked what was behind the figures, Senior Sergeant Jared Kirk, the Southern district road policing team leader for the Otago coastal area, said police concentrated on areas of risk.
''Statistics show the number of serious incidents involving cyclists is relatively low, so that impacts on our decisions around deployment and prevention activities.''
Instead, police concentrated on driver behaviour that contributed to death and serious injury: people not wearing seatbelts; impaired drivers; distracted and speeding drivers.
Police had also shifted to an ''outcomes focus'' to modify risky behaviour, Snr Sgt Kirk said,
Sometimes a ticket was appropriate, but sometimes education or alternative resolutions were better ways of resolving a situation.
''For example, if an officer was to come across someone not wearing a helmet or without a light, they may give the cyclist a week to produce evidence of purchasing a helmet or a light.''
Dunedin cycling advocacy group Spokes chairman Jon Dean said it was ''pretty rare'' to hear of cyclists getting tickets.
He said most people had seen cyclists riding without lights, not wearing a helmet or being inconsiderate by riding in groups on roads such as Portobello Rd.
''But generally, individual cyclists go out of their way to be responsible and safe, because they're the ones that pay the price.''
Mr Dean said not having a light was a more serious offence, as it was ''not fair'' on others if a cyclist could not be seen.
However, cyclists were very aware of what was going on around them, for their own safety.
''I find it farcical when people assert that cyclists are riding dangerously, as if they were high on drugs and oblivious to the world around them.''
Automobile Association cycling spokesman Simon Douglas said the AA wanted cyclists to make themselves as safe as possible.
Mr Douglas said AA members did not display anger towards cyclists as reported in the news media, and on social media.
''Quite the opposite. What we see in most members' responses to our surveys is that they are very happy to see cyclists on the road behaving well.''
They would prefer facilities were provided, and were happy for some petrol tax money to be used for that.
But he said the ''cyclist versus motorist thing'' reported in the media was ''absolutely not our experience. We think that's the fringes of both arguments''.
Snr Sgt Kirk said roads would continue to get busier over the holiday period.
''So I would encourage everybody to take a breath, relax, and be conscious of others and that their driving or riding behaviour might not be the same as yours.''