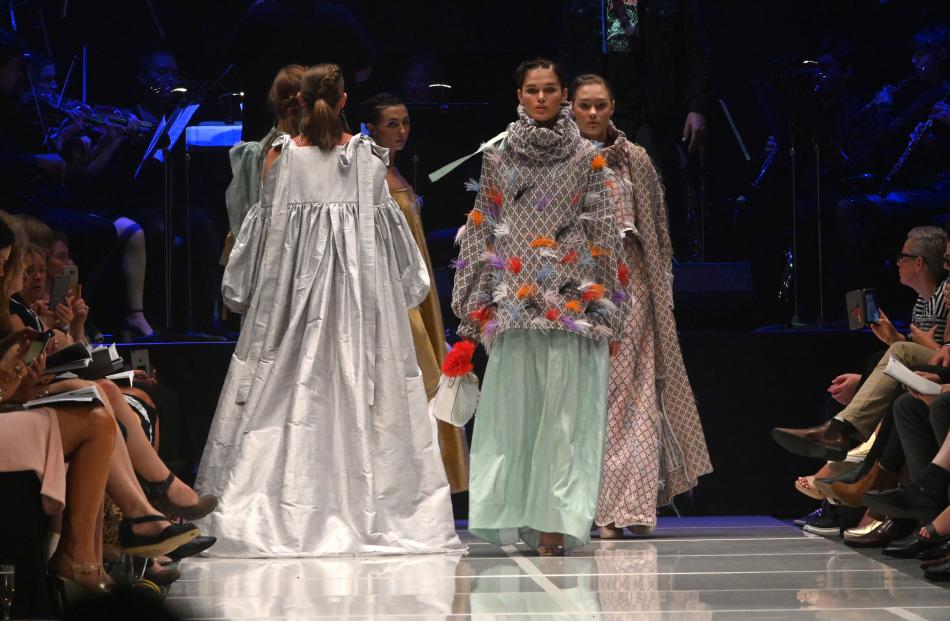 The 20th iD Fashion Show was wrapped up with a second event at the Regent Theatre on Saturday night after hundreds of attendees made the most of almost 40 fashion events during the past week.
iD Dunedin Fashion Week co-chairwoman Margo Barton said consideration had been given to cancelling Saturday's show, after Friday's "hideous event'' in Christchurch, but police advice was there was no risk and sponsors and designers had wanted to make it a fundraiser. Some extra security was put on.
The Otago Polytechnic took the lead at the Regent Theatre on Saturday and gave $5000 towards the victims' fund, while a further $2500 was given by those attending the event.
The first half of Saturday's event was given over to 16 New Zealand designers, and the second half to 25 emerging designers.
"Having emerging and established designers all in one show worked really well,'' Dr Barton said when contacted yesterday.
While it was too early to confirm if the annual event had broken even or made a surplus, early in the week it had been "tracking towards financial success'', she said.
Tickets sales data was yet to be released, she said.
While sponsor feedback had been "really positive'', Dr Barton said it was too early to talk about next year's event, but she believed its future was secure.
Announced on Saturday were the online voted People's Choice winners: Phoebe Lee, from Otago Polytechnic, and Amy Louise Redford, from the Manchester Fashion Institute, in the UK.
Ms Lee's collection "Dream Love Thrive Create'' was described as a maximalist approach with design and aesthetics and juxtaposing patterns including meaningful colours, shapes, layering and accessories.
Ms Redford's collection was described as having drawn upon her research into Maori culture, featuring vibrant colours and creative textures. Also in her collection was a silk corset dress, using 7m of fabric and ostrich feathers.