Demand for water deliveries to Dunedin residents are the highest they have been for six years, a water-carrying company says.
Elsewhere in Otago, dry paddocks due to low rainfall have made it easier for farmers to distribute winter feed - though there are fears of a shortage of feed in spring and summer if the dry spell continues.
According to the National Institute for Water and Atmospheric Research, 32mm of rain fell in Dunedin in June, compared to the monthly average of 58mm.
Niwa forecaster Ben Noll said it had been a near record dry June for the eastern coast of the South Island.
Rainfall in the South Canterbury town of Waimate was 1mm, the lowest rainfall since records began in 1898, and from South Canterbury to Dunedin hardly any rain had fallen in the first 10 days of July.
Stan Fleming, manager of water carrier Wastech Services, said the company had been busy "across the board" delivering water to residents in Portobello, Port Chalmers and Allanton, as well as Outram - and demand was expected to continue, since rain was not due to fall in the next 10 days.
In the past three months, the company had been the busiest it had been since he started in 2013.
"It's been the lowest rainfall in a very long time."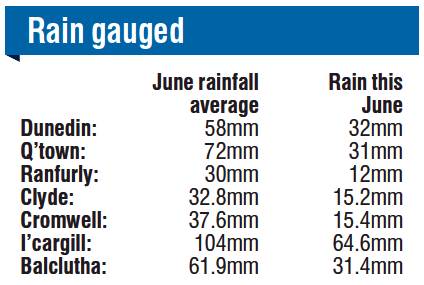 Other water-carrying companies in the area also reported an increase in water deliveries this winter, Cargill Contracting owner George Terry saying it was unusually busy.
The company had been delivering to Aramoana, Long Beach and Purakaunui, whose residents relied on rainwater.
Otago Federated Farmers president Simon Davies said farmers in the region were not suffering because of the dry weather - and in fact it made it easier than it usually was to distribute winter feed.
"Normally we are terrified of droughts, but a dry winter's actually quite nice.
"Typically at this time of year I'm walking round in mud squeezing up around my gumboots, [and] I'm having trouble getting around my farm in my vehicle," Mr Davies said.
There had been much better feed utilisation than normal this year, as livestock were not stomping it into the mud, and so there was very little wastage.
He said he had at least 96% crop utilisation.
However, he was anticipating potential grass growth problems in spring and summer if rain did not start falling.
"No doubt in a month or two's time ... there will be implications further down the season."
It looked like there would be showers from time to time in the coming months, but heavy rain was not on the cards for a while, and no "soaking or prolonged rainfall" was expected over winter.
"It was a very, very dry start to the region for the start of the winter season."
However, the region was not in drought - and it was unlikely for that to happen anywhere in winter, even when the weather was drier than normal.
Despite lower than average rainfalls in South Otago, carrying companies servicing the Clutha area said they had not been experiencing any increased demand.
Southland Water Carriers in Invercargill said they had been making about two deliveries a week, which was typical for the time of year.