Otago midwives yesterday joined a nationwide protest calling for a new funding model to ensure their profession was better paid.
In Wellington about 200 midwives marched on Parliament, and there were sizeable gatherings of their colleagues across the South.
Dunedin midwives held a colourful gathering outside Otago Museum.
Spokeswoman Emma Medeiros said midwives were obliged to be on call 24/7, and they felt their pay rates did not reflect that.
"We have petitioned for many years to have our pay reviewed, which hasn't happened: it hasn't changed since 2007," Ms Medeiros said.
"We don't want to be forgotten again. We want our profession to be recognised and for us to be paid what we feel we are due."
Rural midwives in effect earned about $7 an hour and urban midwives about $12 an hour, Ms Medeiros said.
Midwives were waiting for this month's Budget with bated breath, and a failure to increase pay could result in many leaving their jobs, she said.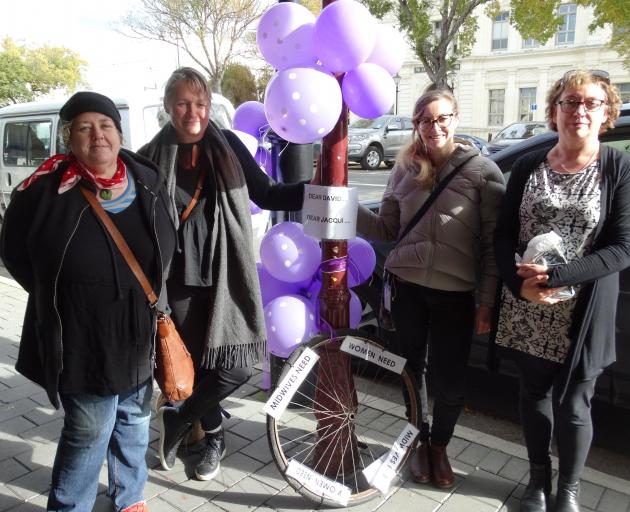 "It's about being able to be financially viable in our profession and not be burnt out.
"We have no on-call fee - my phone could ring any minute and I would have to run off for an emergency and that cuts into family time, home time, professional development time, everything."
In Oamaru, a small group of midwives protested outside the Thames St office of the MP for Waitaki, National's Jacqui Dean.
The Waitaki district is served by three midwives, one of whom is based in Dunedin.
Between 260 and 300 women required a midwife in Waitaki each year, a service Oamaru Hospital midwife Jude Perniskie said was vital to the community.
"We just really want them to know that midwives are concerned about maternity services and we really want women to birth their babies in the community if they wish. It's about giving them an opportunity to have that care in Oamaru."
Former Oamaru midwife Laura Denley said that midwives were forced to meet high demand with "limited resources" in Oamaru.
In Wanaka more than 100 people bearing signs, banners, and prams marched for midwives.
One of the organisers of the march, Elise Burkevics, said she was amazed by the support.
A first-year midwifery student at Otago Polytechnic, Ms Burkevics said she was undeterred by the situation midwives faced.
"I want to do it. It's such a valuable and vital skill that it's needed regardless of the economy.
"But you've got to make a living, too, and I thought I'd be able to do that with midwifery but it seems not so much now."
More than 100 mothers and babies marched along Queenstown's waterfront.
The march was led by local midwife Sharon White, who spoke at a rally at Earnslaw Park.
Ms White said she was humbled by the turnout.