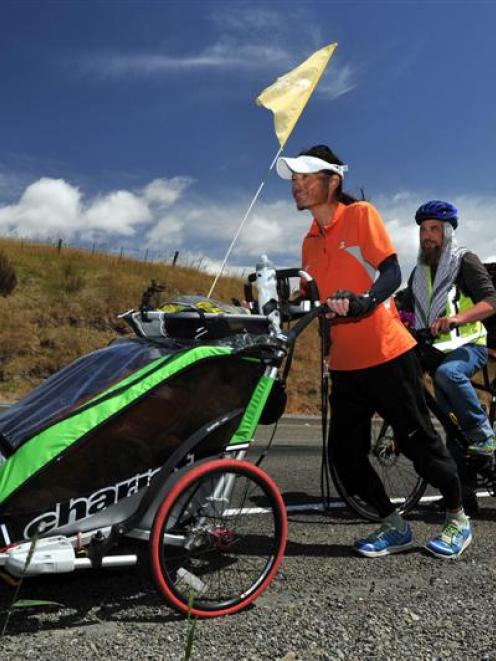 Go on adventures as often as possible.
That's the message from Katzhiko Takashige (54), of Osaka, Japan, who is running the length of New Zealand for world peace.
When he arrived in Dunedin at the weekend, he said his trip was about raising awareness for world peace and money for the 2011 Japanese earthquake and tsunami.
He enjoyed meeting people along the way and seeing New Zealand's natural beauty, rating the South Island as more beautiful than the North Island.
''My mission is to see as many people as possible in this world.''
New Zealanders were friendly and interested in Japanese culture.
''Many Kiwis are kind enough to give me food and water and sometimes we chat on the highway.''
He is just over halfway through his New Zealand ''peace run'', which when finished will span 3000km in 90 days.
Mr Takashige quit his job as an English teacher three years ago to travel and run and is keen to encourage others to get out and see the world.
''I like to encourage the young generation to ... [go on] adventures as often as possible.''
He said he spent between eight and 10 hours running on the road each day and travelled between 40km and 60km.
The 67km from Kurow to Oamaru on New Year's Eve was the greatest distance he had covered in one day on his ambitious trip so far.
His overall goal is to run 40,000km over five continents, of which he had already done 10,000km - including in New Zealand, Australia and the United States.
After Dunedin, he will run to Bluff then go up the West Coast before flying home from Christchurch.
Next, he plans to run across Europe and Asia.
Mr Takashige arrived in the city with like-minded Dunedin man Paul Gourlie, who biked 4000km across Japan last year promoting peace.