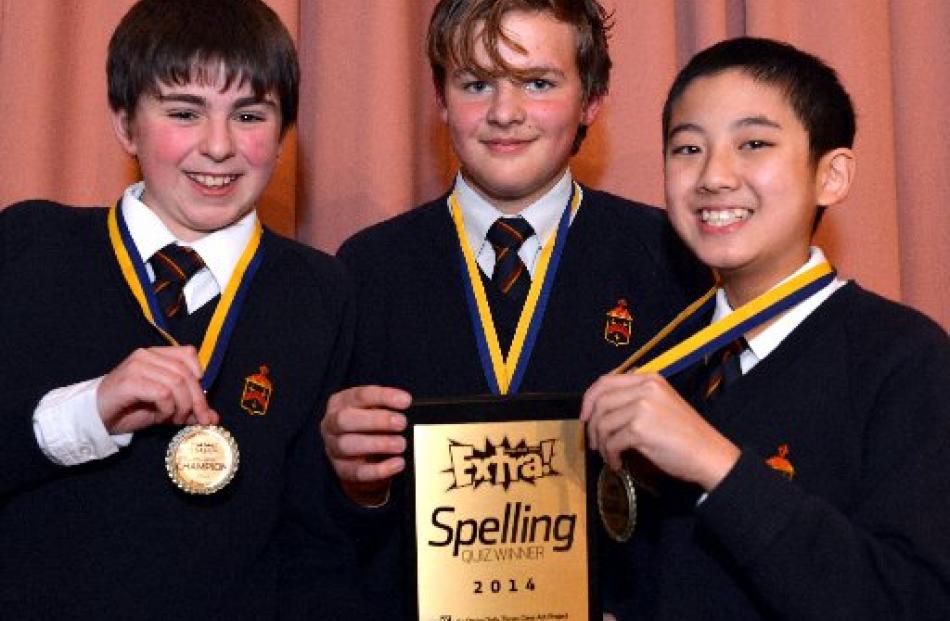 For the first time, a school scored a perfect 100% in the Otago Daily Times Extra! year 9 and 10 spelling quiz last night.
The John McGlashan College 1 team of Alex Leckie-Zaharic (13), Jaiden Tucker (13) and Boen Deng (12) had the opposition spellbound at Otago Girls' High School.
''It's pretty cool. We're really happy,'' team member Boen Deng (12) said.
''The only question we weren't sure about was where chopsticks came from. We thought they were Chinese, but we weren't 100% sure.''
It was the first time a year 9 and 10 team had returned a perfect score, Extra! editor Ivan Behrnes said.
''That's it. They're not coming back again,'' Mr Behrnes joked.
More than 40 teams competed in 10 rounds of spelling, dictionary skills and understanding of abbreviations.
The teams looked beleaguered at times, but the pupils were unflappable and had a chance to convalesce at the end of the hour and a-half spelling quiz.
Beleaguered, unflappable and convalesce were just three of the tricky words the pupils had to spell.
They were also tested on the origins of such words as astronaut, Samurai and flamenco.
Results were. - 1, John McGlashan College 1; 2, Otago Girls' High School; 3 equal, Logan Park High School 1 and 2.
The Central Otago quiz is in Cromwell next Wednesday and Thursday and the Central South Island quiz is in Timaru on July 2 and 3. Entries for the Extra! short story and poetry competition close on July 4.
The Otago Daily Times Extra! spelling quizzes are part of the newspaper's Class Act project, which celebrates the excellence of young people.
Extra! is a monthly educational publication produced by the newspaper for senior primary, intermediate and junior secondary school pupils.