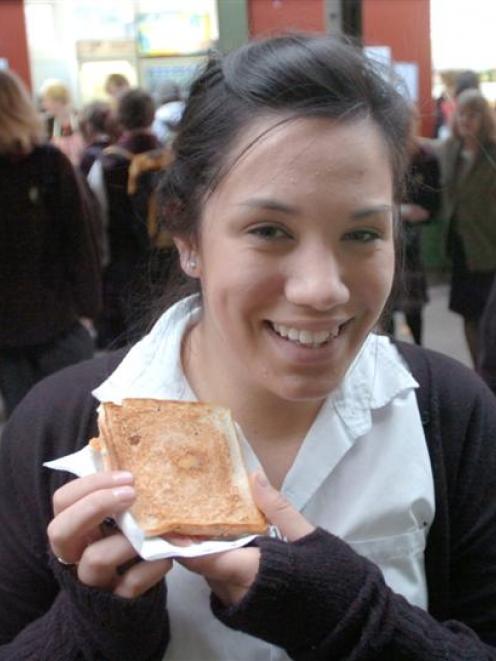 A catering company operating canteens in 80 schools around New Zealand pulled out of two schools in the southern region before new nutritional guidelines were introduced by the Government this week.
The National Administration Guideline 5 which required boards of trustees to provide a safe physical and emotional environment for pupils, was expanded and now schools have to promote healthy food and make healthy options available on school premises.
[comment caption=Do you support the Government's new nutritional guidelines for school canteens?]Spotless Services New Zealand Ltd food and hospitality general manager John Wilkinson said his catering company stopped operating canteens at Logan Park High School and Southland Boys High School last year because the new guidelines would make it financially unviable to continue.
"I think the new guidelines for tuck shops are a very good thing.
''But for a tuck shop in a school, it's going to be difficult financially.
"The reality is the guidelines are going to change the equation."
Mr Wilkinson said schools in low socio-economic areas such as South Auckland were more viable because they had received high levels of healthy eating promotion and education from district health boards and local councils during the past 12 months.
"So, when healthy food came on to the school menus, they were very accepting of them."
Traditionally, people in these areas ate meals of cola, hot chips or pies because they were cheaper to buy than healthy options such as sushi or salad rolls.
However, in the higher socio-economic areas like Logan Park, pupils were more likely to afford healthier food.
So tuck shop items such as hot chips, cola and lollies were regarded as treats, Mr Wilkinson said.
"Now that treats are off the menu, we've found kids are buying them outside school at lunchtimes and sales have dropped off in those areas."
Treats were the main revenue earners for tuck shops, he said.
Traditionally, schools tried to make a profit in their canteens by charging rent to companies like Spotless, he said.
"We're now having to tell schools that if they want us to sell healthy food, we can't afford to pay a rent.
''That's the reality of the situation."
Mr Wilkinson said Spotless never made a profit at Logan Park High School.
It "just about broke even" over the two years it operated there and to continue under the new guidelines would not improve the financial viability, he said.
A Kaikorai Valley College canteen private operator, who declined to be named, said since she took lollies and fizzy drinks off the shelf, profits had dropped by 33%.
"My canteen used to be a great little money-maker.
Now it just and only pays my bills."
Several schools near the city centre said they had noticed an increase in the number of pupils leaving school during lunch breaks to buy items of food which were no longer on school canteen menus.
All year 13 pupils in Dunedin's secondary schools were allowed to leave during lunch breaks but some schools said younger pupils were now sneaking out.
Logan Park High School principal Jane Johnson said she had also noticed more pupils were now buying sweets at local stores and bringing them to school each day.
However, Ms Johnson said it was possible to keep school canteens viable, despite the nutritional regulations.
She said Logan Park's canteen had provided a menu of healthy options which were also "very tasty" which made them popular with the pupils.
On a financial level, the school had managed to keep its expenses at a minimum by employing school pupils to run the canteen.
"It's viable because the students run it and they get credits towards their NZQA food technology and catering courses at the same time."
Like Logan Park, Bayfield and Queens High Schools have been operating their canteens in similar ways with great success.
Ministry of Health guidelines for healthy food and drink in school canteens:
• Sushi, fruit, sandwiches, filled rolls, yoghurt, pure juices, soups, buns with cheese and spaghetti, home-made lasagne, even burgers with good quality meat patties are classed as "everyday" foods and must make up the bulk of tuck shop products.
• Instant noodles, flavoured milk, toasted sandwiches and macaroni cheese are "sometimes" foods, and can only be sold in small quantities.
• Pies, cream buns, soft drinks, lollies and fish and chips are "occasional" foods and may only be sold once a term.