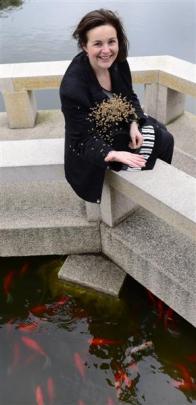 Fish raised in a pond on an Arrowtown estate and given to the Dunedin Chinese Garden are proving smarter than their pet store counterparts, the garden manager says. Margo Reid said a shag could eat five fish in a single dive in the jade green waters of the Dunedin Chinese Garden.
''The shags fly in skinny and fly out fat.''
When garden staff spotted a shag they ran around the garden clapping their hands to shoo away the predator. It worked well but the fish were on their own when the staff went home at night, Ms Reid said.
Hunting had become easier for the shags, more oxygen weed making the fish stand out better.
When the garden opened in 2008, the council spent $9140 on large goldfish from The Pet Warehouse but they lacked the instinct to avoid the shags and the stock was cleaned out in three raids.
The following year, they spent $5750 restocking the pond with smaller fish from the pet store but many of them were eaten, she said.
So in early 2010, the council awarded the The Pet Warehouse a $4000 contract to make two trips to Arrowtown to catch and transport back donated fish from an overstocked pond on an estate.
Pet Warehouse manager Gareth Keenan said the ''massive'' pond was so full it gave the illusion that a
person could walk on top of the fish.
On the first trip, about 300 fish ranging from about 20cm to 30cm long were brought back; on the second trip about 250 fish were brought back, ranging from 20cm to 25cm long, Mr Keenan said.
He had underquoted costs for the two trips and, although margins were smaller than expected, he took pride in helping the garden. However, he disagreed that pet store fish had fewer smarts than pond-raised fish.
Ms Reid believed the goldfish from the estate were more ''savvy'' than pet store fish.
The new fish knew where to hide when the shadow of a flying shag was cast on the pond, she said.
The fish received an extra nutritional boost from fish feed sold to visitors and more fish were being released in the pond, the adopt-a-fish programme allowing visitors to buy, name and release a fish as a sign of good luck, wealth and prosperity.
Nearly 300 fish had been bought and released since the programme's inception, Ms Reid said.
The fish population had also increased from spawning.