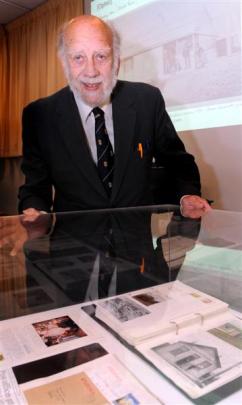 A postal delivery which took more than 40 years was given a stamp of approval in Dunedin yesterday.
More than 30 supporters and staff of the University of Otago's Hocken Collections attended a function for veteran Dunedin journalist, historian and publisher George Griffiths.
Mr Griffiths spent more than half a lifetime deciphering the post code of provincial Otago post offices and recently donated his 84 volumes of research and photographs to the Hocken.
"It's one of the aspects of New Zealand social life," Mr Griffiths said last night.
"Everybody's interested in postal history," he added with his trademark smile, which dares you to differ.
The research includes information on the locations post offices operated, their community functions, staff and a photographic record.
"It's really, really significant for us. It's about place and people and social life," Hocken librarian Sharon Dell said yesterday.
"What might sound like something only a few niche collectors might be interested in is actually an amazingly rich resource for social history research.
"It's a record of the postal history of post offices in communities when the post office was the social-contact hub of the community. So it shows the changing lives of our communities."
Much of the donated material, which includes postmarks and cancellations from each office, was of great value to historians and philatelists, Ms Dell said.
"Knowing the potential value of the postal history and stamps included in the collection, we are very grateful to George Griffiths for donating them to us and ensuring that the research value of his work is not diminished by being broken up for sale." Mr Griffiths joined the Otago Daily Times as a journalist in 1962, before establishing Otago Heritage Books, with Judith Cox, in 1978.
He also championed local historians, publishing more than 50 works, including Dr James Ng's acclaimed four-volume series about Chinese settlement in New Zealand, Windows on a Chinese Past, and his own 2006 bibliography, Books and Pamphlets on Southern New Zealand.
Mr Griffiths was the 1998 University of Otago Hocken fellow and was awarded an honorary doctorate in 1999.