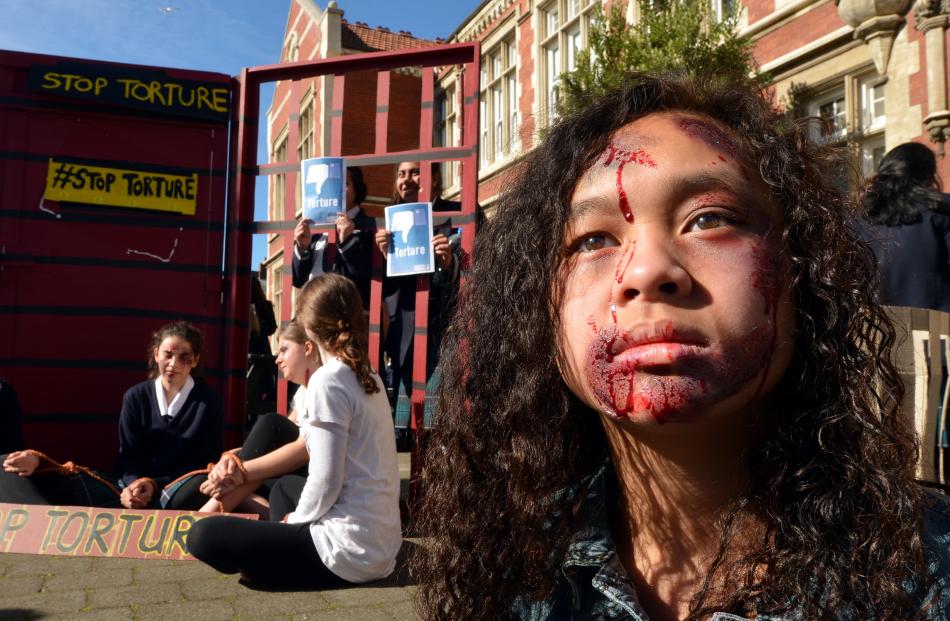 One look said it all. Ala Ghandour never expected to look so horrific.
The 16-year-old Otago Girls' High School pupil was one of about a dozen Amnesty International group members to have special effects make-up applied to their faces yesterday, making them look as if they had been beaten and tortured.
''It's frightening to look at myself in the mirror,'' she said.
''I look at it and think it should hurt, but it doesn't. It's a weird feeling.''
The gashes, bruising, swelling and copious amounts of blood created by special effects make-up artists Georgia Ryder, Anatia Wong and Victoria Ransom turned Ala's stomach and ''totally freaked out'' her fellow Otago Girls' High School pupils.
But that was a good thing, she said.
By emulating cuts and bruises from torture, she was able to shed light on the use of torture practices around the world.
''The message is, this could just as easily have been us, for real, in this situation.''
The school group was one of hundreds around the country which held similar gatherings during their lunch breaks yesterday, to raise awareness and raise funds for Amnesty International's Freedom Challenge campaign to stop torture.
One of the main focuses of this year's campaign was demanding the release and safety of imprisoned members of the youth activist group N!DA, an Azerbaijani civic movement founded in early 2011 by a group of young people to achieve democratic and social changes in Azerbaijan.
Pupils across the country were outraged at the imprisonment and torture of N!DA members, simply for peacefully exercising their right to freedom of expression.
They joined together yesterday to demand N!DA members' release and called for an end to the Azerbaijani Government's torturing tactics.