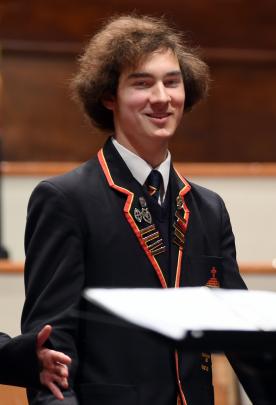 The Dunedin Town Hall was alive with the sound of youth during the annual Big Sing.
Rosemary Tarbotton, the Dunedin co-ordinator for The Big Sing regional festival for Otago and South Canterbury, said yesterday was "wonderful", even though fewer schools participated this year because of uncertainty regarding Covid-19.
About 460 pupils singing in 17 choirs from 13 Otago and South Canterbury schools took part, which was down from almost 600 participants in 2019.
John McGlashan College pupil Tama Anthony-Whigham (17), of Dunedin, said his group had been practising for the event since the start of the year.
He was excited and nervous, even though he knew what to expect because of rehearsals.
Craighead Diocesan School for Girls pupil Phoebe Evans-Hoeffgen (16), of Timaru, had participated in previous Big Sings.
"It's exciting but it's hard overcoming the nerves on stage."
Logan Park High School pupil Harlem Wardell-Matahaere (15), of Dunedin, said he sang because it was fun.
"The challenging part of it was learning the song in Italian."
Adjudicator Peter Watts, of Auckland, said it was a pleasure to judge the competition and there was a lot of talent.
A public gala last night followed two competitive sessions.
Polyhymnia, the choir of King's and Queen's High Schools in Dunedin, was judged the winner of the New Zealand composition or arrangement category for its performance of The Wellerman.
Best performance of a classical composition was won by Craighead Diocesan, for Riversong; Craighead also won the trophy for the "anything else" category, for The Defining Moment.