Lines of cruise ship visitors snaked along Dunedin footpaths yesterday afternoon, some passengers saying they had been waiting for up to two hours.
Two large cruise ships, Ovation Of The Seas and Diamond Princess visited the city yesterday.
Together the vessels can hold about 7500 passengers.
Tourism operators were busy coping with the influx of visitors to the city and many reported they were fully booked for the day.
However, not everyone was happy with the way the day had been organised.
Diamond Princess passenger Bryan May, of Auckland, was at the back of a line which stretched from Moray Pl around the corner into Filleul St, waiting for a bus back to Port Chalmers.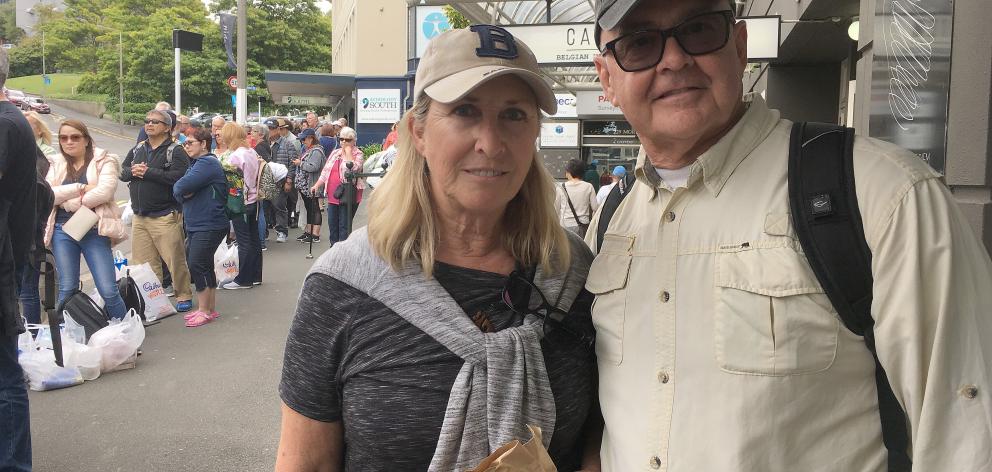 He had got used to waiting, after standing in a queue for about two hours to catch a bus to central Dunedin yesterday morning.
''A lot of the people in the line are elderly. They shouldn't have to be waiting on the footpath.''
He believed the waits in the morning and afternoon were long because two cruise ships were in town and the transport could not cope with demand.
Dave Kimball, of Arizona, was also frustrated.
Months ago, he and his wife, Peg, booked and paid for excursions in Dunedin but were told by the ship operator on arrival yesterday they had been cancelled.
The couple had been given no explanation for the termination.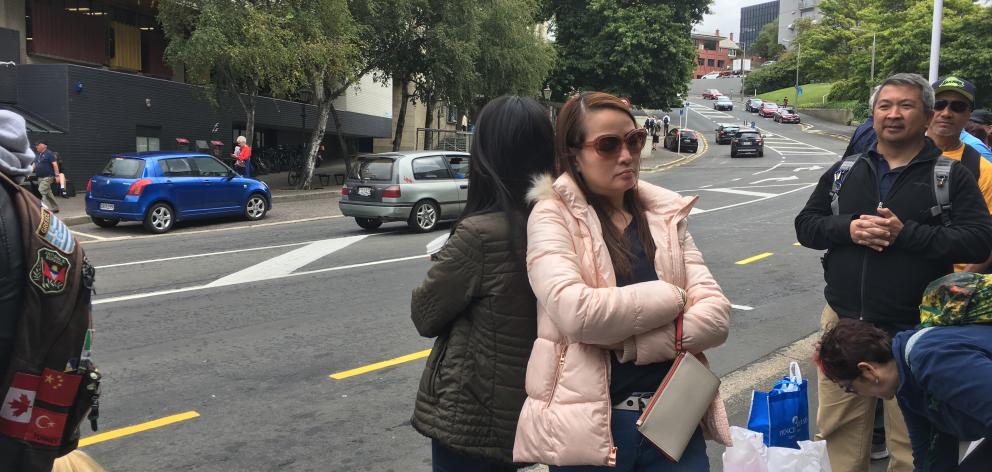 The Kimballs caught a bus from Port Chalmers to central Dunedin yesterday, after assurances buses would run every 15 minutes from Moray Pl to return them to Port Chalmers.
By 2.30pm yesterday, the couple had waited about 30 minutes and were in the middle of the line.
''It's terrible,'' Mrs Kimball said.
More transport should have been provided to cater for demand, they said.
''I don't care if you had to go out and hire taxis to move these people - and this line is only going to get longer,'' Mr Kimball said.
Dunedin i-Site manager Louise van de Vlierd said she had heard there were some delays in buses for Ovation of the Seas passengers but otherwise did not know of any other transport issues.
She was not aware of any issues over bookings being cancelled and passengers were still buying tickets through the i-Site yesterday. As many passengers booked tickets through the cruise ship companies, any issues with those bookings had to be taken up with the ships, Ms van de Vlierd said.
''It's been really busy and a fantastic day but there haven't been any issues with our bookings.''
Dunedin Railways chief executive Craig Osborne said almost all of the seats on the company's train excursions were sold out by lunchtime yesterday.
There were one or two customers who had been double-booked, which was unfortunate, but there were no other issues over bookings being cancelled, Mr Osborne said.
Larnach Castle operations manager Judith Appleton said they were also fully booked but although they were extremely busy, everyone who had bought a ticket went on a tour.
Princess Cruises, owners of the Diamond Princess, did not respond to questions sent to them by the Otago Daily Times yesterday.