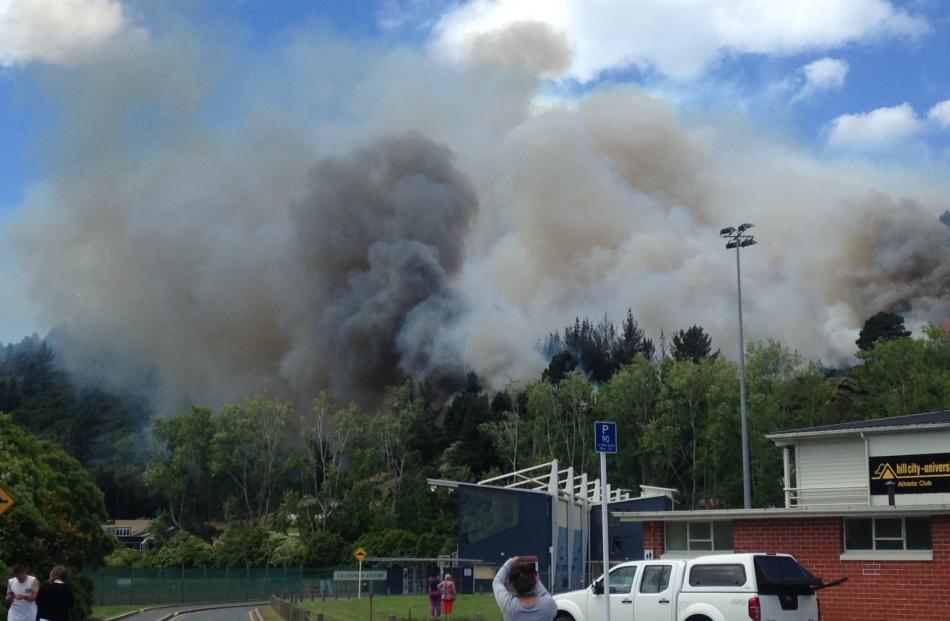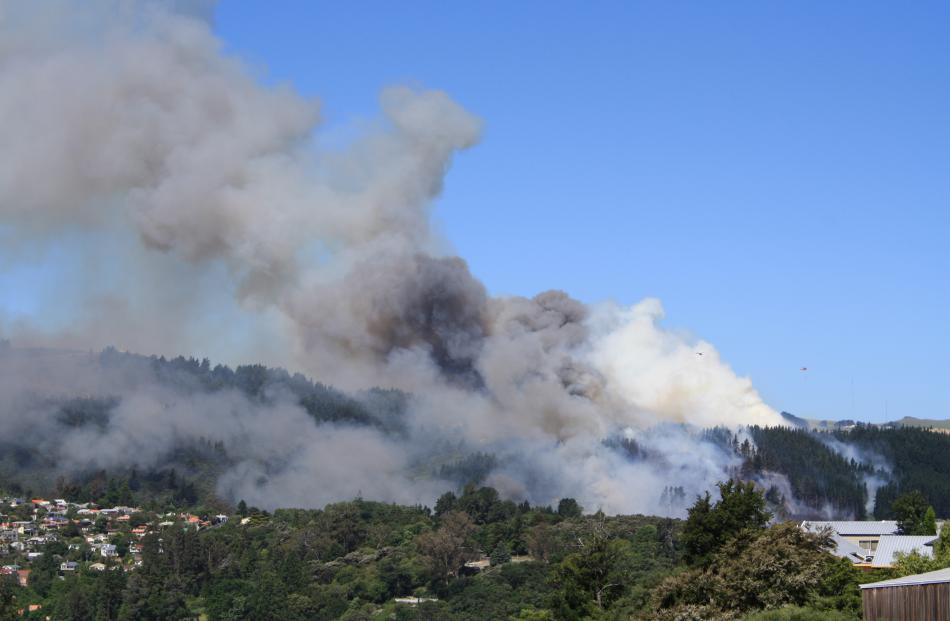 Residents of a Ravensbourne street who were evacuated due to a fire burning on Signal Hill are likely to return tonight.
A police spokeswoman said there was no risk to other properties in the suburb.
Three houses in Rimu St were evacuated shortly before 7pm tonight as a precaution, the spokeswoman said.
Fire crew will remain at the scene of the fire overnight.
Multiple fire appliances from fire stations across Dunedin, and three helicopters equipped with monsoon buckets tackled the blaze on Signal Hill, near Logan Park High School.
The fire was reported to emergency services about 2.45pm and affected several hundred square metres of scrub and trees on the hillside. A Fire Service command unit continues to operate at the scene.
Police had set up cordons in the area and said they were helping assist the residents nearby.
Residents were out on the street watching emergency services battle the blaze.
Local residents said the fire 10 years ago was worse. Fire and police gathered in Manuka St to evacuate if necessary.
Police urged people in the area to be responsible and follow the directions of emergency services and motorists should avoid the area if possible. Plumes of black smoke billowed into the sky and flames licked the hill above Logan Park High School.
James Winfield said he was at work when he got a call from his partner alerting him to the fire in the trees above Ravensbourne.
"I thought she was just exaggerating but as I drove home I realised s*** it's a pretty big fire," he said.
"At the moment I thinks it's going to be all right, the wind's no good. But Hannah [Boreham, his partner] is pretty nervous."
Jo McCullough, of Timaru said she spotted smoke from the blaze on the motorway about 3pm. About 100 people had gathered at Opoho Park and near the Caledonian Ground to watch the blaze.
Rachel Neynens, of Dunedin, said she called emergency services after spotting the fire about 2.45pm.
"My boyfriend and I were on the athletics track getting ready to do some exercise and we saw some smoke.
"Initially I thought maybe someone was having a bonfire or doing a controlled burn but a few seconds later it was quite big and I saw flames licking a tree."