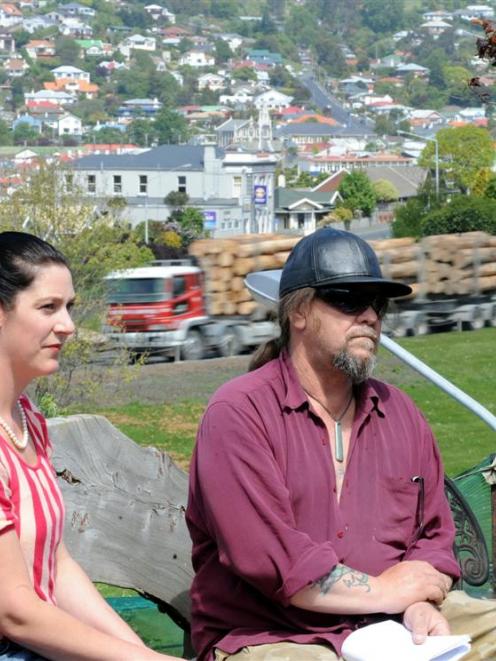 Residents likely to be affected by the Caversham Valley highway redevelopment want the Dunedin City Council to help them get a better deal.
They yesterday urged the council to advocate for ratepayers concerned over noise from the government-owned highway.
Council infrastructure services committee deputy chairman Lee Vandervis, whose electoral ward includes the highway, said he would take their cause to his colleagues.
The council could not force the New Zealand Transport Agency to change its plans - but he believed it had a role to play in highlighting residents' concerns.
"We are not talking about a rural road; we are talking about a highway cutting through a high-density urban area.
"I think we should be having a look at this."
His pledge followed Leckhampton Court resident Tony Ambrose's plea for the council to help residents as they tried to get 1.8m-high noise barriers, starting from Glen Rd.
Residents aired their concerns about road noise at a meeting NZTA organised in July, and organised a petition last month when NZTA suggested high barriers had been ruled out.
Mr Ambrose acknowledged the highway was not the council's responsibility, but said it could still take the residents' case.
"There must be a role here for the council to get involved - the road goes right through city suburbs, and it will affect a lot of people."
South Rd resident Sarah Campbell-McKenzie organised a petition to encourage NZTA to build 1.8m-high barriers.
She said many of the 120 signatories knew very little about the highway plan, and she urged NZTA to discuss the project at another public meeting.
"A lot of the people I've spoken to tell me they [NZTA] haven't given any information - it is as if NZTA has decided to talk to some people.
"But this affects everyone who lives alongside it, and up the hills," Ms Campbell-McKenzie said.
Highway project manager Simon Underwood was unavailable for an interview, but said in an emailed response that NZTA contacted Glen area householders who lived within 80m of the new highway as they were most likely to have an interest in the project.
They and anyone else who expressed an interest were invited to the public meeting in July.
NZTA had also been operating a consistently updated project-information website since May.
Mr Underwood said specific noise barriers were not considered, in part because the Glen area was steep.
Houses were well above the highway, so noise barriers would have to be very high to have a significant effect.
Concrete 1.05m-high roadside crash barriers were likely to be installed instead.
Concrete barriers, rather than steel guardrails, were chosen to further minimise the noise already dampened by low-noise road surfacing.
Mr Underwood pointed out the four-laning project, for which a final decision on funding should be made this month, was designed to allow existing traffic to flow more freely rather than to cope with a lot of new traffic.
NZTA consultants last month monitored road noise at several properties at the Glen end of the highway.
The results of that work should be available this week, an NZTA spokesman confirmed.