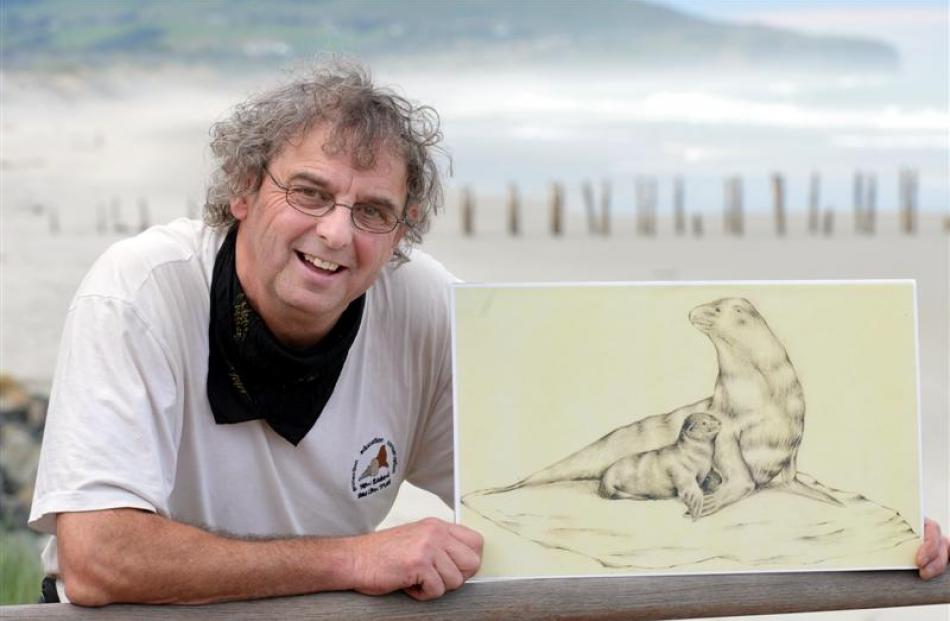 The anniversary of the return of New Zealand sea lions to the mainland after more than 150 years could be commemorated with a life-size sculpture of the ''matriarch'' of the small Otago Peninsula population.
Plans for a sculpture - initially proposed for the Esplanade at St Clair - were presented to the Dunedin City Council by New Zealand Sea Lion Trust chairman Steve Broni this week.
Mr Broni said the sculpture would depict a female sea lion, dubbed ''Mum'', which was born in the subantarctic Auckland Islands in 1986 before migrating to the Otago coastline.
She produced a female pup at Taieri Mouth in late 1993 - the first to be born on the New Zealand mainland in more than 150 years, Mr Broni said.
The pair shifted to Otago Peninsula weeks later.
By 1998, Mum had produced two more female pups, Mr Broni said. All three pups went on to produce their own, helping re-establish today's population of up to 60 sea lions on the peninsula.
The population included ''11 to 15'' breeding females, producing between three and eight pups a year in recent years, at a time when the species was listed as ''nationally critical'', he said.
Mum continued to breed until 2007 and was last recorded ashore in 2010, but was believed to have since died at sea.
Mr Broni told Monday's council public forum meeting the sculpture of ''Mum'' and her pup would be crafted by Broad Bay sculptor Bryn Jones.
Mr Jones' previous work included a life-size bronze sculpture of Sir Edmund Hillary at Mt Cook Village and a bronze cedar cone at the Dunedin Botanic Garden.
The 2m-long, 1.2m-wide sea lion sculpture was expected to cost $11,000 and would be made of fibreglass, mounted on a base representing sand, Mr Broni said.
While still discussing a site with council staff, he suggested the Esplanade at St Clair - in front of the surf life-saving club - would be a suitable ''high profile'' location for a sculpture he expected the public would welcome.
The trust was still pursuing funding but wanted council endorsement for the project, which it hoped to complete by the end of the year, he said.
The sculpture would not only mark the return of the species, but also raise its public profile and acknowledge its contribution to the city's wildlife tourism industry, he believed.
''It [Mum] could have chosen anywhere, but it chose Dunedin. Maybe she found sanctuary there,'' he said.
Trust members would continue to discuss the project with council staff.