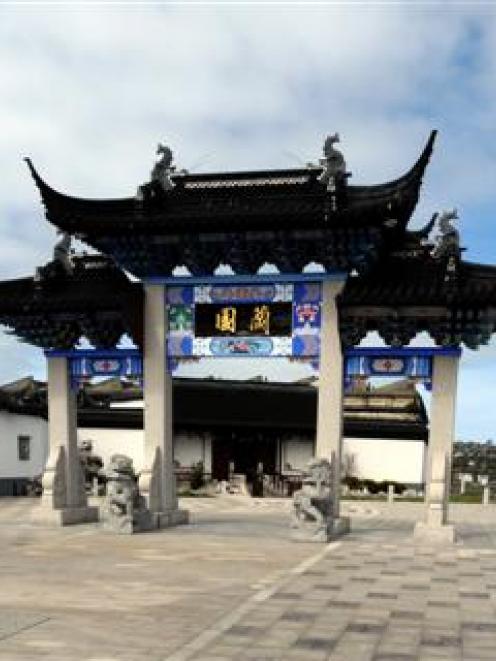 Management of the Dunedin Chinese Garden is to be merged with the neighbouring Toitu Otago Settlers Museum as part of a shake-up designed to minimise the garden's cost to ratepayers.
This includes the axing of garden manager Margo Reid's role. The changes are contained in her report to be considered by councillors as part of the Dunedin City Council's public pre-draft budget hearings, beginning tomorrow.
The report details the transition plan, already under way, where the museum assumed responsibility for day-to-day management of the garden within months.
That would lead to the end of Ms Reid's role by July 1 - the start of the 2013-14 financial year - although part of her work, managing the city's relationship with Shanghai, would continue as a separate part-time role, funded by the council's economic development unit.
The changes would shave between $50,000 and $70,000 a year from the garden's operating costs, reducing the bill covered by ratepayers - once garden revenue was exhausted - which this year stood at $585,000.
Councillors will also be asked to consider using any spare funds to accelerate repayment of the council's $1 million ''gift'' towards garden construction costs, Ms Reid's report said.
Moving the gift shop to the front entrance, to maximise returns, and building a function space at the back of the garden, with room for 100 guests, were also being investigated by the council's city property staff, as ways of boosting revenue.
The function space would allow the garden to host ''commercially viable'' conferences, dinners, weddings and other events, regular restaurant dinners, and a ''more substantial'' cafe during the day, she said.
A cost-benefit analysis was still to be completed, but results would be presented to councillors once it was, she said.
Councillors would also be asked to consider updating the deed of agreement between the council and the Dunedin Chinese Garden Trust to ''reflect the [council's] desire to maximise revenue''.
When contacted yesterday Ms Reid, who is unsure of her future role, said the transition plan was already under way, and did not require further approval, but councillors would be asked to note the progress.
Ms Reid's report to councillors came after the Otago Daily Times last year reported a shake-up was likely as visitor numbers declined and the cost to ratepayers climbed.
Figures showed visitors numbers had dropped from 83,193 in 2008-09 to 28,243 in 2011-12, while operating costs not covered by revenue meant a total bill for ratepayers of $1.02 million over the period.
The council had agreed to cover operating costs unable to be met by the garden's revenue, and aimed for 60% to be covered by ratepayers and 40% by garden revenue streams, including ticket and shop sales.
Ms Reid's report said that requirement was yet to be met, with 69% expected to be covered by ratepayers in 2013-14, but was achievable with planned and suggested changes to the garden's operation.
There were also early indications the reopening of the museum had helped boost revenue at the garden. Changes needed to be carefully considered to avoid ''unwittingly'' jeopardising the authenticity of the traditional scholars garden, which was a ''cultural asset'' not designed to maximise commercial opportunities, she added.
---
Chinese Garden
• Planned changes to the Dunedin Chinese GardenToitu Otago Settlers Museum to assume day-to-day operation of garden within months.
• Garden manager's role disestablished by July 1; management of city's Shanghai sister-city relationship to continue as separate, part-time role.
• Dunedin City Council to consider accelerating repayment of $1 million ''gift'' towards garden construction costs.
• Changes to garden's shop and new function space being investigated to boost revenue.
• Call to update deed of agreement between council and Dunedin Chinese Garden Trust to ''reflect the [council's] desire to maximise revenue''.
---