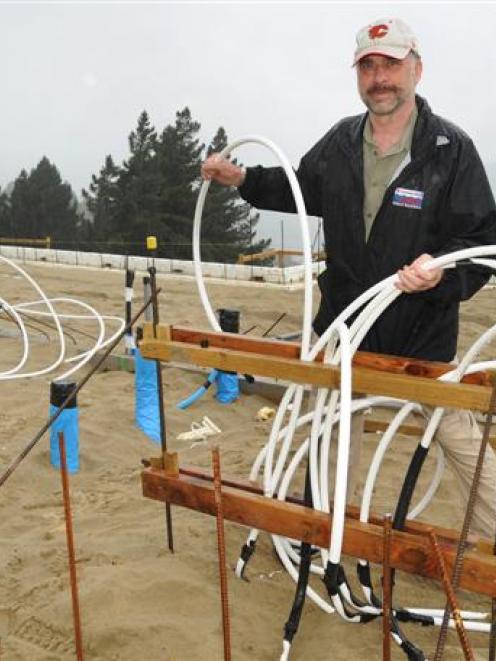 A prototype of a solar heating system designed to store summer heat for winter use is being built into a new house in a subdivision at Ravensbourne, Dunedin.
The house has an insulated "core" under the concrete pad of the ground floor where heat collected from solar panels on the roof will be stored and used to keep the house at a minimum of 18degC.
Auckland designer and managing director of Energy Efficient Homes Ron Theaker says the system is "in its infancy", with six installed around the country over the past two years.
The house and water-heating system for the Ravensbourne house would cost $25,000, including nearly $10,000 worth of solar panels.
"On any given sunny day, those panels will easily heat this house.
"So, the question is, how do you make it last? You make it last by dumping all the solar energy into the heat core."
Mr Theaker said the 1.5m-deep heat core of dirt, insulated by polystyrene, would be capable of reaching 80degC.
On cold days, core heat could be transferred to the concrete pad.
He said the system was to be used with other energy efficient features, including thicker exterior walls and high-quality double glazing.
The former Canadian considers many New Zealand houses to be of Third World design "because they are just boxes that hold the moisture in".
"Having seen so many kids sick here with asthma and things, there is no doubt in my mind what does it.
"It's nearly always the building environment."
He believed there was a need for energy-efficient homes that were neither too much more expensive nor more complicated to build than traditional homes.
The house's owners, Dr Charles Pigden and his wife Zena, were looking for an energy-efficient home that would keep their carbon footprint to a minimum.
Dr Charles said they were "taking a punt" on the design "but this is respectable engineering and we can expect it to work".