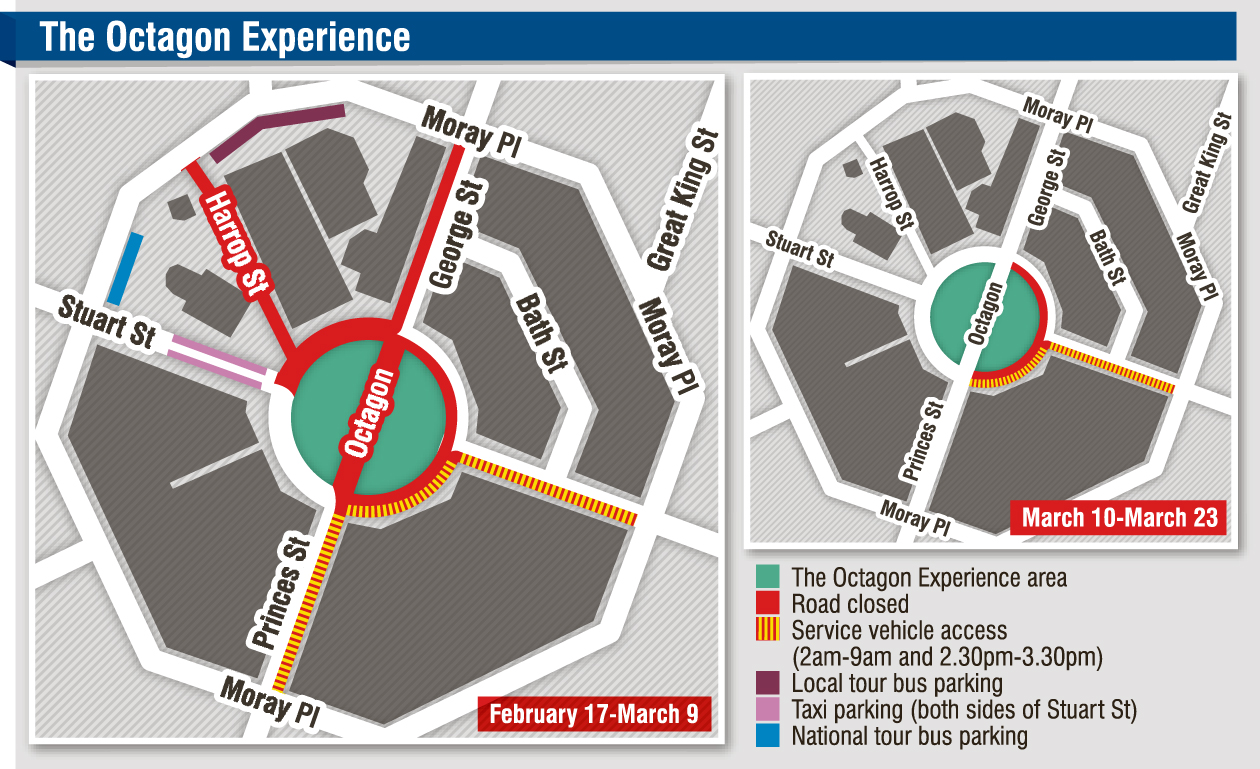 The heart of Dunedin is about to undergo a dramatic — but temporary — transformation into a more pedestrian-friendly space, ahead of the influx of thousands of music-lovers and sports fans to the Octagon.
But, as the Dunedin City Council urges people to give the two-month, $150,000 trial a chance, some Octagon business owners are still crying foul.
The "Octagon Experience" plan was announced in November, and would result in full and partial road closures in the area over the next two months.
That would include an almost-full vehicle closure of the Octagon, as well as parts of Princes, George and Stuart Sts, as far as Moray Pl, beginning on Monday and continuing until February 14.
Smaller partial closures would continue after that until March 23, and together were timed to coincide with a string of major events.
That included the opening of the New Zealand Masters Games village, concerts by Elton John and Queen, the Thieves' Alley Market Day and the Otago Southland pipe band competition.
Council principal urban designer Kathryn Ward said furniture and trees in planter boxes would be added, as well as poetry displays, footpath decorations and other "place-making" elements, to create an area "that is vibrant and engaging".
Craft Bar and Kitchen owner John MacDonald said he supported the concept, if done properly, but what was planned would fail to deliver.
Octagon bars and restaurants had been denied permission to extend outdoor settings into the street, as they had done for New Year's Eve, to boost capacity.
Without such extensions, Octagon bars would have a combined capacity for fewer than 1000 people, while trying to cater for thousands more Masters Games athletes — coming from an alcohol-free village — and music fans.
"We won't be that happy if there's thousands of people queuing and we're all being roundly abused."
Consultation over the plans had also been "disastrous", Mr MacDonald said.
"A lady from planning turned up on my door, handed me a piece of paper and said 'This is what's happening'," he said.
Sue Todd Antiques owner Sue Todd, whose shop is near the Octagon, said she had not been consulted, despite expecting a major downturn in trade during the trial.
While the events would boost foot traffic, it was not the kind that was good for business, she believed.
"I'm not against progression.
"I've been in business for 30 years ... I know what happens every time the Octagon gets closed down. I lose trade. I know what's going to happen."
A council spokeswoman said the more than 75 businesses had been informed of the trial in November, and, while some were "unhappy", many agreed to support it "in principle".
Licensees were also able to extend their premises, but not on to the street, which needed to be kept clear for emergency services, she said.
Council planning and environment committee chairman Cr David Benson-Pope also defended the trial yesterday.
"The only way we're going to find out what really works well and what doesn't, what people like and what they don't, is by trialling various things."
He dismissed critics with a "default grumpy mindset" and said staff were working "really hard" to make the trial a success.
"And, for the life of me, I can't see why any [business] ... would think it's a bad thing to have more people in their immediate physical environment."
A series of surveys and data collection by the University of Otago Schools of Entrepreneurship and Sustainability would also be used to monitor the trial's success.