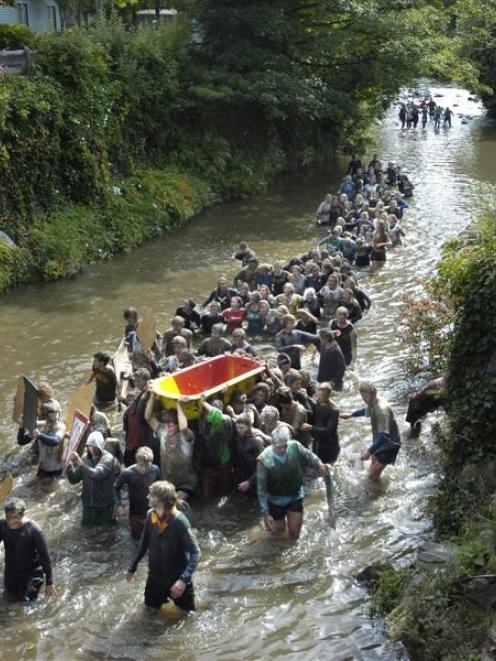 This year they came prepared with shields.
The annual Selwyn College Leith Run, first held in 1935, was a storming success on Saturday morning with the residents of the University of Otago hostel, in Dunedin, managing to carry a cast-iron bath down the Water of Leith without it touching the water.
Many of the participants, both first and second year residents, had learnt the tradition from their parents and grandparents who had gone through the initiation rite in the past.
Former resident Devon Latoa said the bath, painted in the Selwyn colours maroon and gold, was "borrowed" from Knox College and, after a mud fight in the college grounds, was carried along Castle St and to the Water of Leith by female residents.
Bewildered Castle St residents in dressing gowns and the odd birthday suit watched with amusement as the mud-caked Selywnites chanted their way down the street.
At the Water of Leith, the male residents took over and carried the bath for more than an hour through various obstacles, and much bombardment from older students and former college residents, before they reached the university clocktower.
Many former residents were dismayed their younger counterparts had had the foresight to make shields out of anything they could in order to deflect the flour, eggs and rotten vegetables that were hurled at them.
As the students crawled out of the Leith with clean legs, muddy mid-sections and flour-caked heads, many remarked on how much fun they had had.