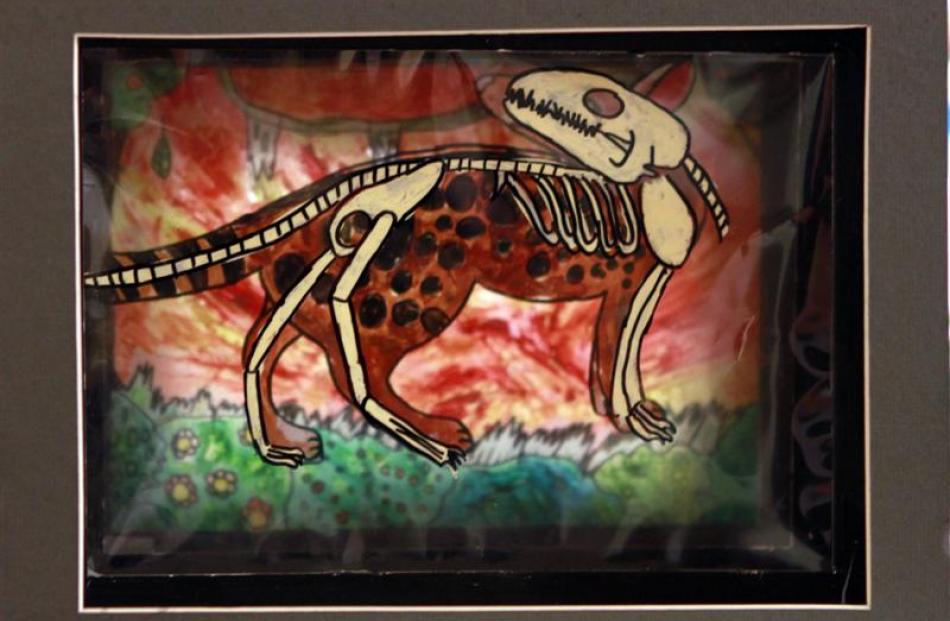 A shawdow box has won an intellectually handicapped Dunedin woman third prize in a national art competition.
Melania Smith (20) was third in the 2013 IHC Art Awards with her shadow box Civet Box, which was constructed of overlaid transparencies of a civet skeleton.
''I saw a picture of a civet in a book and copied it,'' she said. Miss Smith received her prize at an awards night at the Michael Fowler Centre in Wellington last weekend. She was accompanied by her parents, Neil and Christine Smith.
She won $1000 and later sold the work at an auction for $700.
''I'm going to use the money to visit my sister Emma in Brisbane,'' she said.
''We're all so proud of Mel,'' Idea Services support worker Holly Aitchison said yesterday.
Not that Miss Smith is resting on her laurels. She was back at work at Art Space this week making a latex horn to wear at Halloween.
There were 450 entries in this year's IHC Art Awards, which started in 2004.
The other Otago finalists were Eion Ireland (Bison) and Robert Jones (Sydney Opera House), of Art Space, Dunedin, Shane Armistead (Deer), Chris Tavite (Self-Portrait) and Shannon Thompson (The Bright Side), of Studio 2, in Dunedin, and Lachlan Young (I Love Making Rugs), of Balclutha.