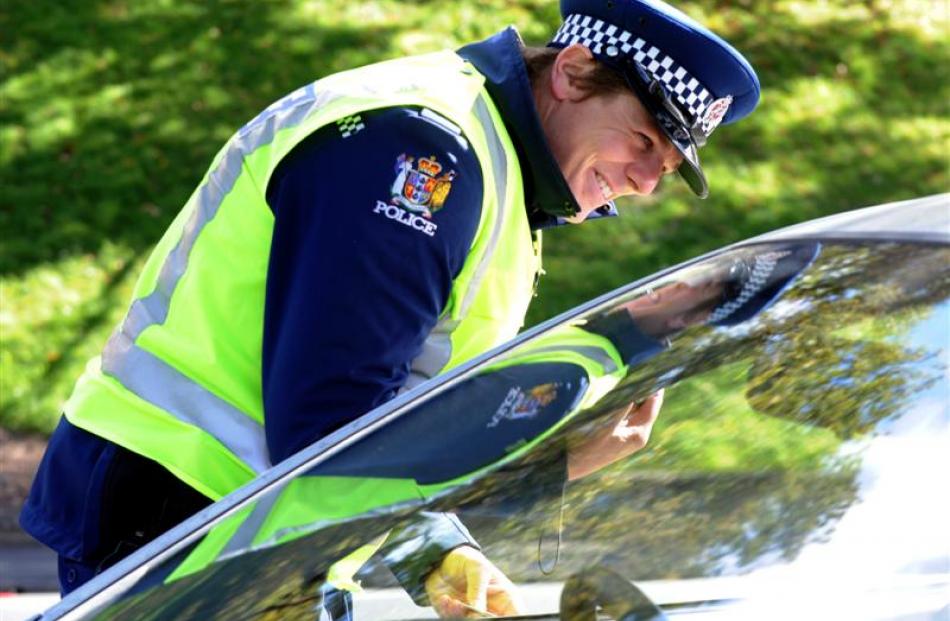 As police warn drivers to take care and stay patient on southern roads this Easter break, many Dunedin drivers got a timely reminder yesterday, when police stopped more than 1000 cars across the city.
Twenty-eight police staff, including traffic teams, proactive policing teams, the South Dunedin neighbourhood policing team and community constables, targeted driving outside schools, at intersections and speed. Compliance with the new give way rules was also checked, as was general licence compliance and driving behaviour during the seven-hour operation.
Staff focused on the city, Mosgiel and Milton.
Dunedin-Clutha road policing manager Senior Sergeant Phil McDouall said the day went "reasonably well", with 1438 vehicles checked by police and 139 offence notices issued.
The tickets were for a variety of offences, including running red lights and stop signs, not wearing seatbelts, talking on cellphones, expired warrants and infringements "across the range".
Twelve drivers were given warnings about the give way rules, and the general consensus of officers was that there was still confusion among drivers about the new rules, Snr Sgt McDouall said.
The purpose of the traffic checks had not been to issue tickets, but to make sure cars and their drivers were safe for the Easter weekend.
Many police would be on the roads at the weekend, as police anticipated heavy traffic in the South, with holiday makers heading to holiday spots in the region joined by those heading to and from Wanaka to attend the Warbirds Over Wanaka International Airshow from Good Friday until Easter Sunday.
Snr Sgt McDouall urged drivers travelling on Otago roads over the break to take extra care, be patient and to drive to the conditions.
The official holiday period starts today at 4pm and ends at 6am on Tuesday.
Police will be targeting speed, alcohol and poor driving practices, including inconsiderate driving where the traffic flow is impeded.
Checkpoints will be set up around the region during the break.
During Easter last year, one person was killed, seven seriously injured and 17 received minor injuries in crashes on Southland and Otago roads.
The fatality was the first at Easter in the Southern police district since 2003.
---
By the numbers
• 28 police officers.
• 1379 vehicles stopped at checkpoints.
• 59 mobile vehicles pulled over.
• 128 tickets issued (excluding speeding).
• 11 tickets issued for speeding.
• 1 person arrested on a warrant to arrest.
• 2 vehicles impounded because drivers were forbidden to drive.
• 1 drink-driver (a 17-year-old youth who recorded 248mcg of alcohol per litre of breath, when tested at 9.30am in Mosgiel).
• 12 warnings for not correctly following the new give way rules.
---