The brutal clash of cardboard rang out across Waitati on Tuesday.
The annual Waitati New Year's Eve Battle between the Waitati Militia and Clan McGillicuddy was a bloody mary affair. 
A 40-strong militia battalion arrived at Almond Castle, home of Green MP Metiria Turei, to discover a gaggle of McGillicuddy gargoyles basking in the battlements. 
The militia banged their drums, waved Jolly Roger flags and shook sticks topped with teapots in rage. 
The rules of the engagement were laid out and a safety briefing given by Ms Turei. 
''Your safety is of absolutely no concern at all. I'm telling you think to avoid any legal complications later on,'' she said. Invercargill Mayor Tim Shadbolt, flanked by a United Nations ensign, then addressed the combatants.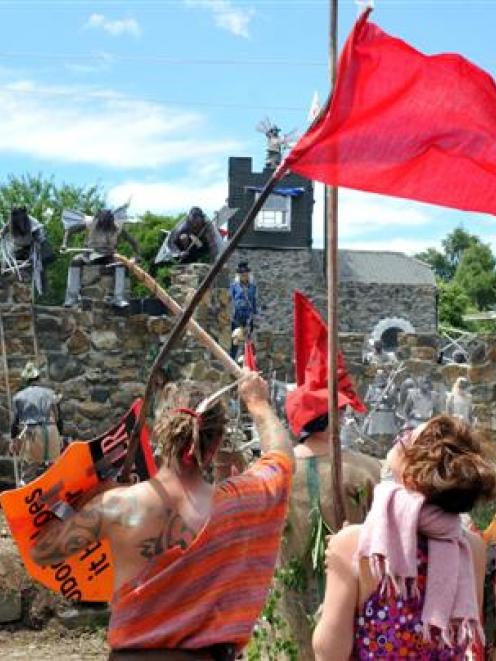 ''I'm not sure why I'm here, but I think it's to make sure the rules are obeyed. Although, I'm not sure what the rules are, so I think we'll just make it up as we go along,'' he said.
That tactic seemed to work well.
Many of the militia wore photos of the late commanded Pete ''Escherichia von Coli'' Smith, who died on Saturday, and a minute's silence was observed around the casket of the Waitati identity before the war was waged.
After the exchanging of insults, the battle commenced shortly after 2pm.
The militia started the attack with a bad poetry charge, followed by a tango advance. The clansmen were completely caught with their kilts down and never really recovered. 
The militia bombarded the castle with soft toys, soggy buns and toilet rolls soaked in cold curry, while the clansmen responded with water and flour bombs. 
Stretcher-bearers raced among the carnage attending to the laughing wounded. It was almost unedifying and few combatants emerged with any credit.
''We'd only just cleaned up after Christmas, too,'' castle owner Ms Turei said with a sigh.