Power has been restored to hundreds of customers in Dunedin and the Taieri after wild weather hit parts of the South.
Power lines were downed, trees were sent toppling on to cars, a roof was ripped from a house, and fires were sparked in two houses on the same street during a day of weather chaos in Otago and Southland yesterday.
As severe wind gusts reached more than 130kmh, emergency services were kept busy at dozens of incidents.
Fallen trees caused havoc, taking down power lines across Dunedin, blocking roads and damaging cars.
Aurora Energy said this afternoon crews were working to restore a fault affecting 10 customers in Blueskin Rd and expected to have power restored to them by the end of the day.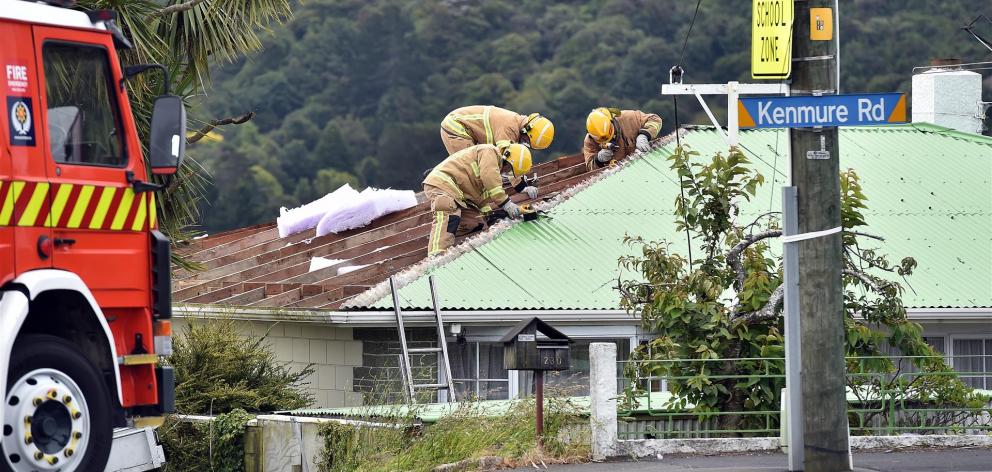 Aurora said at the height of the event on Monday night, 2500 customers were without power in Dunedin.
At 9am on Tuesday,  371 customers in Fairfield, Allanton and Henley were still affected, but all major faults had been fixed by 2pm.
"We thank all our customers for their patience over the last 24 hours while our crews worked to make the network safe and restore power," a spokeswoman said.
"If you are still experiencing an outage, please contact Aurora Energy on 0800 22 00 05."
TREE DAMAGE 
Dunedin City Council parks and recreation manager Robert West said on Tuesday morning the council had so far received 80 calls about trees or damage throughout Dunedin, and expected to receive more throughout the day.
Mr West said a team of arborists were prioritising the calls and the council would work with contractors to clean up debris from the high winds.
"The calls have ranged from minor - branches on reserves or bits of trees down - to entire trees down. I know of an entire tree that has come down at Warrington Reserve."
Mr West said in his two years in the job he had not seen the same level of damage that yesterday caused.
One person was taken to Dunedin Hospital with serious injuries after being struck by a falling tree in Albany St at 3.47pm on Monday, a St John spokeswoman said.
Part of Kenmure Rd was closed for a time late yesterday afternoon, when roofing iron was blown from a house into neighbouring properties and across the street.
It was one of many incidents attended by Fire and Emergency New Zealand (Fenz) where parts of roofs were lifted around Dunedin.
Meanwhile, damaged power lines sparked two separate roof fires on the same Musselburgh street.
The first callout to Belmont Lane was at 9.22am, where fire crews extinguished a small fire in the roof of a house.
The owner, Appie Borren, said he was told by Delta staff that overhead lines further down the lane had shorted out, which had caused a power surge.
That had caused the fire in his roof, and he believed it was the cause of the second fire, too.
There was minor damage, and he had insurance, he said.
"If we weren't at home, they said the house would have burned down. But we were, and the smoke alarms went off and everything."
At 12.47pm, five crews were called back to the street for another roof fire, this one more significant.
Firefighters were notified of the second fire by a tradesman who was examining the damage caused by an earlier roof fire on the street, a Fenz spokesman said.
The fire was extinguished by late afternoon.
An Aurora Energy spokeswoman said staff had fixed the faults in the area and an investigation was under way.
MetService meteorologist Lisa Murray said at the storm's peak on Monday afternoon, winds gusted up to 131kmh at Dunedin's Swampy Summit.
Winds reached 96kmh at Dunedin Airport, Stewart Island recorded 117kmh, Invercargill 105kmh, and Nugget Point had gusts of 115kmh.
She said the winds were expected to ease overnight and would be calmer over the next few days.
The strong winds meant it was uncomfortable for those flying.
Otago Rescue Helicopter Trust chief pilot Graeme Gale said the rescue helicopter was landing at the Kitchener St heli-pad, rather than at the Dunedin Hospital one, due to the conditions.
That happened only one or twice a year, he said. "We're just making sure everyone's safe."
Some flights were unable to get airborne.
A Dunedin Airport spokeswoman said a flight due to arrive from Wellington at 10.30am was cancelled, as was a subsequent departing flight to the capital.
There were also minor delays to some flights.
TREES TOPPLED IN INVERCARGILL
Outside Dunedin, holiday-makers at the Alexandra Holiday Park were not deterred by the blustery and, at times, chilly conditions.
Bill Shaw, of Invercargill, was trying to remain optimistic but said the wind was the worst he had experienced while holidaying in the area over 20 years.
However, Alexandra's weather was not as bad as it was in other parts of the South Island.
"It's 10 times worse back home."
In Invercargill, trees toppled by strong winds were an issue. An Invercargill City Council spokesman said there were several reports about fallen trees or branches.
Staff were also picking up branches, especially in Queens Park.
"A gum tree in the park, which had been identified as needing to be removed, has come down in the wind with no major issues."
Beach Road Holiday Park co-owner Bevan Shirley said a few campers decided to pack up and head to a less windy destination, but most holiday-makers do not head to Invercargill until the end of the month.
Ferry crossings between Stewart Island and Bluff were also affected.
Wakatipu residents had a particularly unseasonable start to the week, waking to snow on the mountains after temperatures dropped sharply overnight Sunday.
Coronet Peak ski area, which is operating its new gondola for sightseeing and mountain biking this summer, was closed yesterday after strong winds, rain and snow on Sunday night.